Has anyone ever made just the right amount for Christmas dinner? I'm not sure it's possible... I think if it ever happened there'd be some sort of rift in the Christmas time continuum that would suck us all up!
The thing is, it's really hard to estimate how much food to cook for a big group. One thing's for certain, though – it's always better to have more than not enough.
The result is that thousands of us around the country will be eating turkey, stuffing and cranberry sauce sandwiches for DAYS after Christmas itself. Eventually, most of us will give up, and end up chucking the rest away out of pure boredom.
I'm here to tell you that's not how it has to be! There are loads of amazing ways to spice up your leftovers that will make it an absolute pleasure to finish everything up...right down to the very last sprout.
Turkey Biryani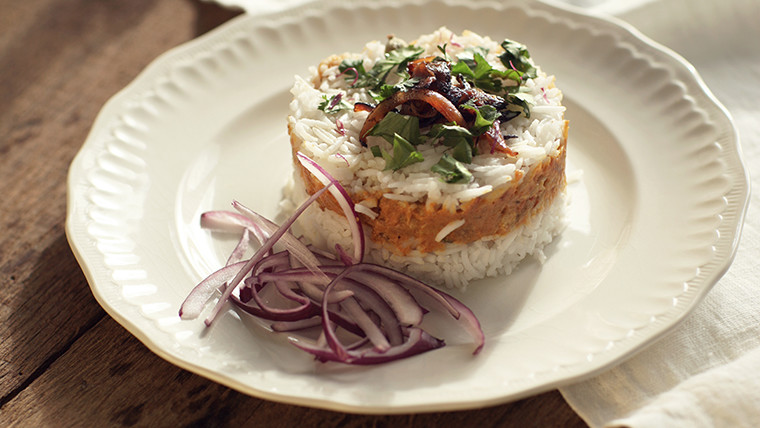 Biryani is basically Indian style fried rice, making it the perfect leftover dish for curry lovers.
My Turkey Biryani combines fluffy basmati rice with a rich turkey masala featuring a deliciously fragrant combination of saffron and whole spices.
The best thing about this Turkey Biryani recipe is that it works a treat with leftover turkey. Simply warm it through in the masala sauce for ten minutes and you're good to go.
Bollywood Bubble & Squeak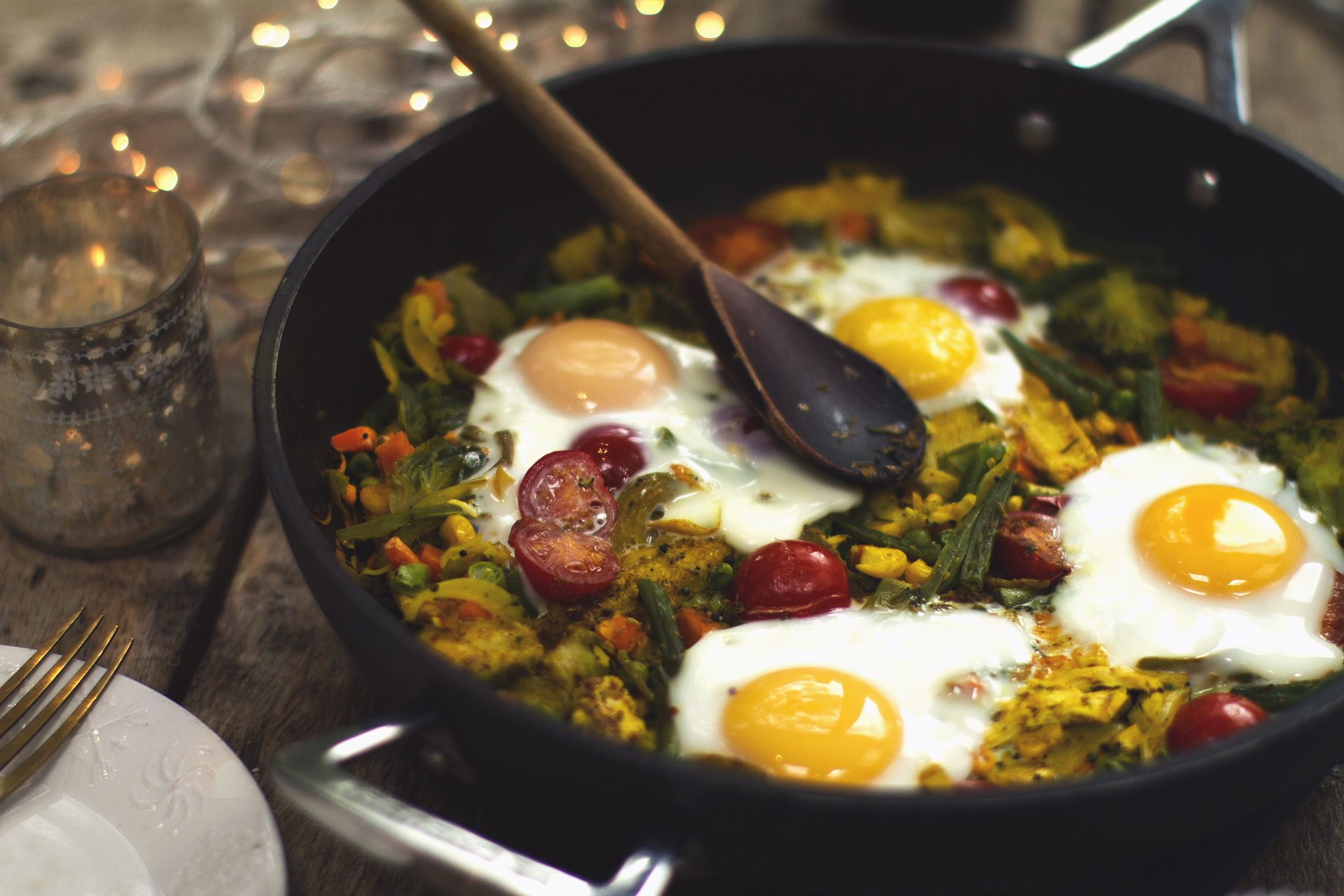 Bubble & squeak is the ultimate leftover dish because it's just one big freestyle. Traditionally speaking its nothing more than potato and cabbage shallow fried with a few onions, but you can take it as far as you want.
My Spicy Bubble & Squeak recipe starts with a beautiful spice base that you can add pretty much any leftovers you have to – meat, veg, whatever. Top it off with a sprinkling of garam masala and a fried egg per person for an enticing Indo-English breakfast worthy of the Viceroy himself.
Turkey Tikka Masala
OK, I'll admit it, this one was a bit of an experiment. One year I'd really gone overboard on the turkey and had so much left I felt certain I'd have to break my golden rule of never throwing any food away. Can you imagine?! I had the family over that night, so instead of buying more meat for the curry, I decided to chuck in my leftover turkey instead...
Hey presto! My Turkey Tikka Masala recipe was born!
You know what? It really worked! I modified the standard Tikka Masala sauce a bit to make it less sweet and creamy, and more of a festive cashew sauce, as this works better for turkey. Having the meat precooked was fine – you couldn't tell – I think mainly because the recipe calls for a long braising time.
There's quite a process to follow with this one, so here's a step-by-step video to help you on your way:
Indian Bloody Mary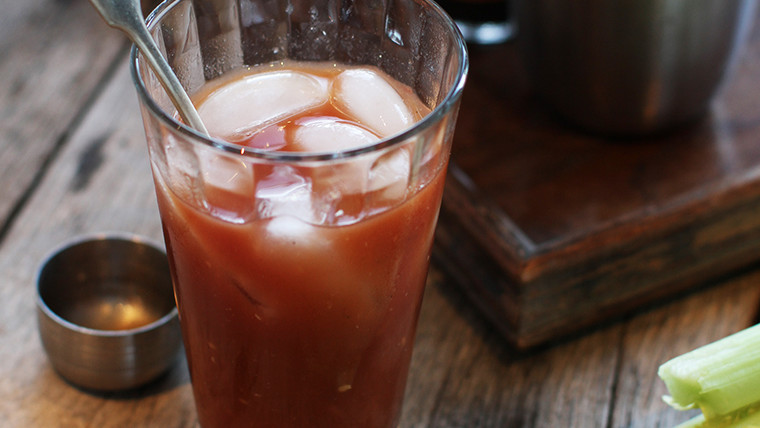 OK, this one isn't exactly a leftovers recipe, but it's saved my morning afters so many times I just had to share it with you!
All credit for this wonderful concoction goes to my husband Jeremy, who haphazardly fumbled this masterpiece together one Boxing Day many moons ago. But credit where it's due – he really is the Maharaja of Bloody Marys!
This Indian Style Bloody Mary builds on the original recipe with a few extra touches and, of course, a cheeky sprinkling of garam masala.
Tandoori Turkey Sandwich Filling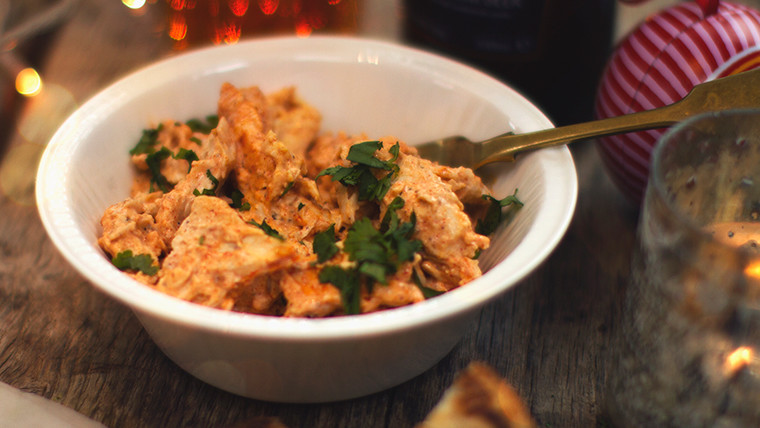 There's a reason turkey sandwiches are the most popular way to gobble up leftovers – they're super easy to put together and go with pretty much anything.
What if I told you that in five minutes flat you could transform that dry old turkey breast into a fresh and zingy sandwich filling?
For my Tandoori Turkey Sandwich Filling, simply shred up your leftover bird with some chilli, mayo, lemon and coriander for a Boxing Day brunch with a difference.
For more amazing ways to spice up your leftovers check out my full Boxing Day recipes page.
Back to Blog