Well, what an amazing day that was!
Digital Journeys is an annual event hosted by Jellyfish (the digital marketing agency I'm working with) here in Reigate.
The idea is to bring together leading figures from the industry for one insightful day of talks, discussions and ground-breaking innovation. For example, this year we heard from Google, Spotify, Twitter and Microsoft, plus Jellyfish's own in-house experts.
Now, I don't profess to be a digital expert, but since coming to Jellyfish I've had my eyes opened – through placing my business on Facebook, Google+, Twitter and the web – to the efficiency and potential of professional digital marketing. And it was great to be amongst people who are as passionate about the world of digital media as I am about cooking. Surprisingly, the two came together very nicely as, after listening to these brilliant people talk about keywords, creative performance, cookies, wire-framing, and understanding why metrics and Google analytics are so important, it was my turn to wow the masses with my food!
I'd prepared for the day by working hard at not just creating enough Indian food to feed over 100 people, but to provide enough variety to really showcase my skills to a very exacting public. As I started preparing everything in the morning, I did first ever Google hangout featuring a live cookery demo to get everyone all excited about the food and the day itself. Terrifying or what?!?
As I said, I've learnt a lot recently from the guys here at Jellyfish, and one of the most important lessons is that there's more to putting up a website than just making it look nice. Oh, so much more...
In fact, my digital journey so far has been pretty amazing and this is how it started:
Creating the Brand
All you really need is a logo and a strap-line, right? Well, no. There is so much more that goes into this process of brand development. How do I tell people who I am, what I am and what I am not? Am I talking about me, or 'the brand'? Now, we think we know who we are and I did too - until I had to write it down. I had no idea where to start. Do I talk about my favourite food? The fact that I would much rather go food shopping then buying clothes? Would everyone think I'm a bad mum if I say I make my kids cook with me? My brand has sprung from something that I do all the time and that I love, but more importantly, it is rooted deeply into my life. And that all comes from being taught to cook by the best cook I know – my mum.
A bit like self-help therapy, I came out the other side of this self-reflection feeling uplifted. The enlightening (or scary) bit is that you end up with everything that is important to you and your persona on just one piece of paper... but after all this soul searching I had defined who I was, what the HG brand represented and my business goals.
Communicating to the World
So armed with the knowledge of who HG is (the brand, not just the person), what I stood for and what I wanted to do with it, it was time to spread the word. I wanted to get people cooking and enjoying food, yes, but more than that, I wanted everyone to understand how amazing home- cooked Indian food is and how anyone can make it. It's all about giving people to tools to inspire and then make it easy for them to do get started.
My Website
I could talk about this for hours. Getting all the recipes, interesting information and what HG is all about on this site has been challenging but amazing, and it's even brought me to tears. I love what the site represents, and I want this to be used as a source of inspiration. I want to demystify and share Indian food with the world, the way I do when I cook for guests at home. I want people to have fun just like I do.
So then, harighotra.co.uk is where it's at – loads of classic Indian dishes from restaurant favourites to more exotic recipes from little villages in India. I've also included blended dishes (no posh fusion here, but more the stuff I grew up with in 80s Wolverhampton that my mum created) and dishes I've mixed up to fulfil my love of English food and my Indian roots. On top of all this, I am cooking and experimenting every day to add more fun, more adventure and more delicious ways to enjoy Indian food.
My social channels and engaging different people in different ways:
So anyway, back to Digital Journeys. There's me, all hooked up to the mic and grafting away as we filmed my first live cookery demo on Google hangouts. Probably the most exhilarating and exciting thing I have had the pleasure of working on (although yes, I was terrified)! Cooking vegetable pakora live on screen in front of a professional audience who were pretty hungry was scary, but secretly I loved it. This is the best way of the world seeing what I do and what I can do. And I can't wait to do the next one and start sharing and helping even more people to cook.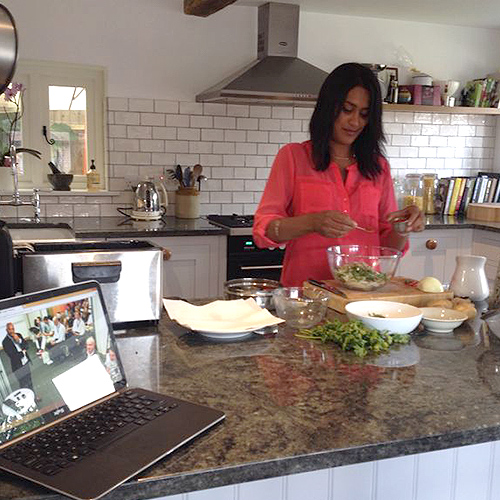 Not only did all the attendees get to see the food being made but they then got to sample the dishes for real over lunch. The queue for the food was amazingly flattering (it ran all the way out the marquee and round the Jellyfish building) and I felt hugely proud to see loads of happy people loving the food I'd cooked.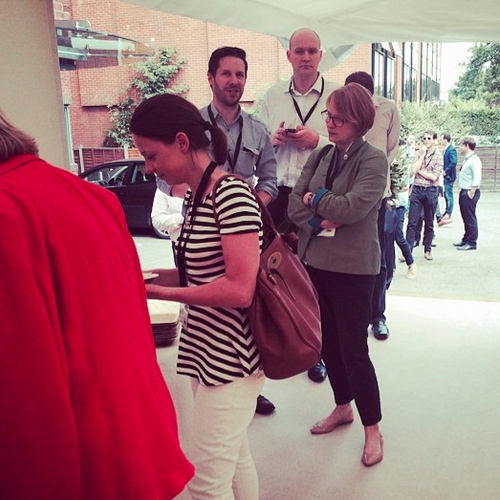 And as a thank you, I gave everyone my hand-selected spices in a wonderful little spice kit so they could make the meal themselves.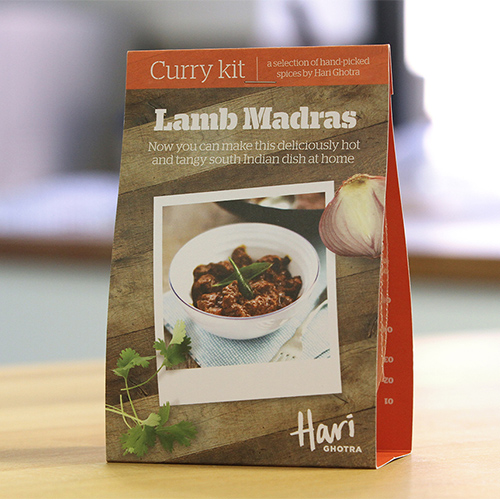 The Future
This is just the beginning and I have lots of thoughts and ideas about how we can keep my digital journey going and growing. New recipes to enjoy, new regions to discover, your ideas and comments, and incredible new technology to make it all happen. So keep watching and keep cooking!
See you all soon x
Back to Blog