On Tuesday evening, I was delighted to attend the 2015 launch of Find your Feet's charity campaign Curry for Change which aims to raise thousands of pounds to help some of the poorest rural families in Africa and Asia, including the recently struck country of Nepal, to fight hunger and poverty. I love this charity because they work with local communities to empower the people to help themselves by teaching them new skills.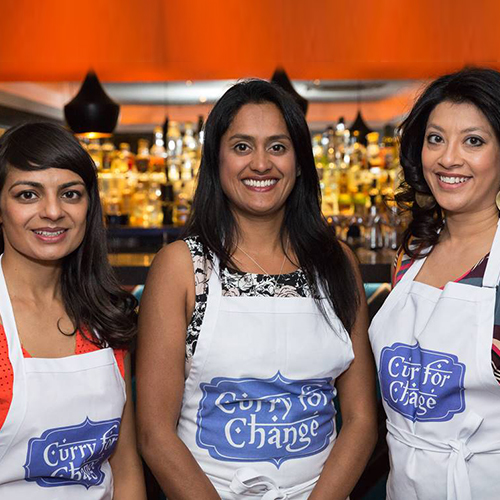 Me with two other ambassadors the very talented Meera Soda and the lovely Mallika Basu
Get Involved
With a reported one in nine people around the world going to bed hungry each night, UK charity Find Your Feet created the Curry for Change campaign as an easy and fun way for the public to help make a real difference; by either 'dining in' and hosting their own curry night at home or 'dining out' and enjoying an Indian restaurant meal, and helping to raise vital funds.
Now in its fourth year, the campaign has garnered support from celebrity ambassadors including twice Michelin Starred Chef Atul Kochhar, TV Chef and Restauranteur, Cyrus Todiwala OBE, TV Chef and Cookery Writer Anjum Anand, and Founding Chef of The Cinnamon Club Vivek Singh, who are helping to raise awareness and valuable funds for the cause this year. As you can see I'm in great company as one of the ambassadors supporting the campaign this year.
Curry for Change
Running from June - October 2015, the campaign encourages people across the country, from curry enthusiasts' to first time try-ers, to host an Indian-inspired dinner party using a free Curry for Change event pack. This is where you guys can get involved - by simply signing up at www.curryforchange.org.uk you will receive all the essentials to invite friends, family or co-workers for a spicy night in. The kit includes exclusive recipes from campaign ambassadors, top cooking tips and a packet of Natco spices. After guests have enjoyed their evening of fantastic food and great company they are invited to donate what they'd usually spend on a take-away and every penny raised will be matched by Natco.
In addition, throughout June, a number of partner restaurants across London, such as the renowned Cinnamon Club and Benares, will also be creating special dishes in honour of Curry for Change offering their guests the chance to make a donation with their bill.
For further information on the Curry for Change campaign and to sign up to receive your free kit please visit www.curryforchange.org.uk. Come on let's cook some curry and change lives.
Back to Blog