I know we haven't had much of a summer so far but hey, it's only the beginning of July right? I'm still optimistic and who knows we may be heading towards a nice long Indian summer.
To help get you geared up I have created some fun summer dishes all with a hint of Indian spices to get you in the mood. I'm super excited to tell you that some of these very funky dishes have been featured in Great British Food Magazine which is fantastic - so make sure you get your copy.
Indian food in the Summer
Most people think that eating Indian food in the summer is a bit of a no no, all those spices, chillies and heat can't be right under the hot sun, but with the blazing heat in India the food still works. Why is this?
Cooking in India
Cooking in India isn't just about flavoursome dishes, or creating beautiful looking plates it's also about a deep understanding of how to use ingredients and spices that suit the seasons. The ancient art of Ayurvedic medicine is a holistic approach to health that provides a guide on how you should eat for your body type. It identifies that there are certain foods that will generate heat within the body and those which will have a cooling effect. This is true for spices as well.
Ingredients and Spices
We all know that fruit, vegetables and spices have different properties and some are suited to the warm summers and others have warming effects, so are perfect for the winter months. Ingredients like watermelon, coconut, lemon can be cooling which makes them ideal to be consumed in the summer sun here's a few little spices you can also use to jazz up dishes and to help you keep cool in the sun.
Fennel Seeds
You may not realise but fennel seeds have a hugely cooling effect on the body. They have an incredible aniseedy flavour profile that adds a wonderful scent to summers drinks and salad dressings. The cooling effects are further enhanced with it's ability to improve digestion and reduce acid reflux too. In India, it's common practice to chew on a spoonful of fennel seeds before or after a meal as a digestive and to freshen the breath. This recipe can be found in the Great British Food Magazine and i'm sure you'll agree it has summer written all over it!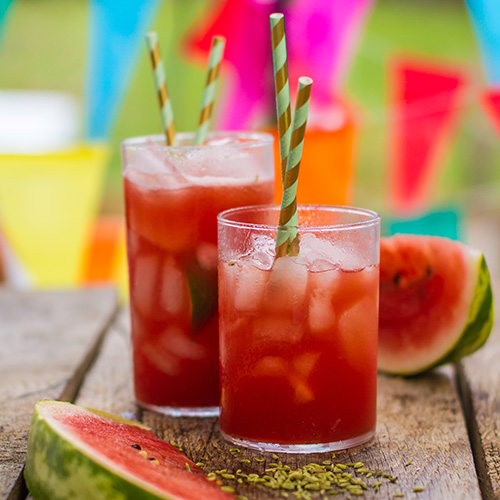 Coriander Seeds
Coriander seeds are known to have some of the strongest cooling powers according to Ayurvedic medicine. It imparts a citrusy flavour and is used both in Eastern and Western cooking. It is a little gemstone in the Indian spice tin for both flavour and health promoting properties. It is known to relieve sinus congestion as well as have effects in aiding the reduction of high blood sugar. I love using this spice in dry meat rubs for the BBQ as well as in hot curries to add a real zing.
It was great to see my spiced Broccoli Cakes in Great British Food Magazine especially as I had cooked them on this very cool Prakti wood burning stove. If like me you love cooking on 'real' fire then you have to check these dinky little stoves out. Mine will be coming camping with me this year!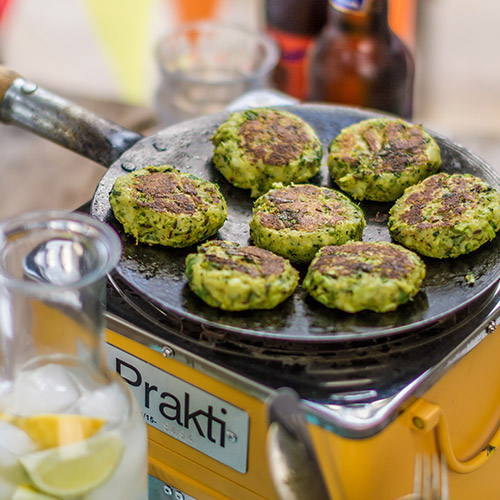 Saffron
The beautiful vibrant threads of saffron that add such warmth to dishes in colour actually have a cooling effect on the body. Saffron which is used in Biryanis and korma's can also be a great addition to a refreshing cup of summer tea. Saffron is also known to help sore joints.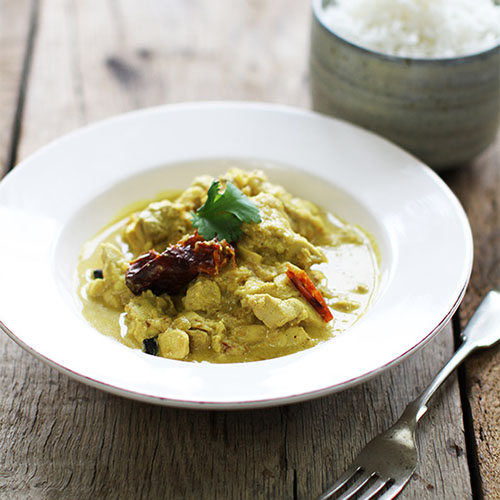 Cardamom Pods
The love it or hate it spice is another super cooler. A little sprinkling onto your yoghurt or banana lassi will make it super special.

Fresh Mint
We all know that mint is super cooling. I always have mint growing in the garden, I love to use it in marinades, sauces, chutneys and drinks. In the summer it's great in salads too and don't forget, it helps sooth bloated tummies too - there is nothing like a few fresh sprigs in a warm water infusion at the end of a big meal.

Fresh Coriander
There is nothing more amazing then freshly chopped coriander leaves (and stems) to add a fresh and cooling vibe to marinades, Indian salads or kachumbers. The colour makes you feel cool, the fresh aroma is like a refreshing breeze and the flavour is just amazing.
This fresh fennel and seafood salad made with squid, prawns and salmon each with a simple marinade and grilled fresh fennel is my current recipe of the month. It was great to see it in print in the Great British Food Magazine it really will be a bit of a showstopper at your summer barbeques.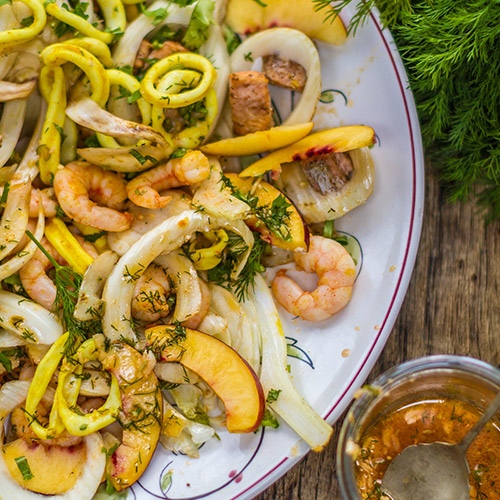 There is something really special about seeing your work in a magazine so thanks to Great British Food magazine for putting the feature together - now make sure you get your copy to see my Indian Summer dishes.
Back to Blog