The Indian festival of Diwali is becoming a recognised festival in the UK, which is a great testament to the welcoming, accepting, multicultural nation we are. When I was a child no-one had heard of it, so the way I explained it then and now is to say it's an Indian bonfire night. Without the jacket potatoes and warm wooly hats, obviously.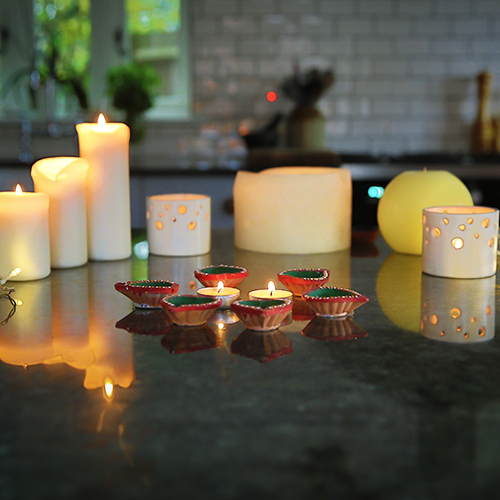 Diwali is a Hindu festival and represents the triumph of good over evil, light over dark, knowledge over ignorance and hope over despair (or Man U over Man City someone in the office has just added). It is actually a lunar event which is always celebrated in the autumn and falls around the same time as bonfire night (mid-October to the mid-November).
Why is Diwali celebrated?
Diwali is celebrated by Hindu and Sikhs, but in different ways and for different reasons (but they all recognise the nice over naughty bit).
For some Hindus the religious significance comes from the return of Lord Rama, his wife Sita and his brother Lakshman, all from exile. Other Hindus believe that Diwali is a celebration of Lakshmi and they celebrate five key events in her life over five days before the event. Others believe that it's a celebration of the return of her husband Vishnu to their home, and they believe the positivity Lakshmi felt then will be represented in year ahead for them. So take yer pick!
Bandhi Shorr Divas
For Sikhs, the festival is actually known as Bandhi Shorr Divas which is when the sixth Guru, Guru Harigobind Ji, was released after being imprisoned by the Mughal regime. When the Guru and his men returned to Amritsar the city was celebrating Diwali so the two became entwined.
But still the festival represents good over evil and however it is celebrated, whatever your religion, Diwali is a huge part of Indian tradition (and it's a national holiday in India – whey hey!).
How it is celebrated?
So depending on which religion you follow and the region you come from, Diwali is celebrated differently.
Hindus will clean and decorate their homes, and invite friends and family to celebrate with them. The festival is an evening event where people will dress up, and light up divas (oil lamps and candles) inside and outside their homes. Rangoli patterns are made with coloured flour on floors near entrances to welcome the goddess Lakshmi. Then whole family will take part in pooja, which is a prayer event to Lakshmi, the goddess of prosperity and wealth. This is usually followed by lighting fireworks, sharing of Indian sweets (Barfi, Gulab Jamun, Ras Mali, Jalebi) and exchanging of gifts.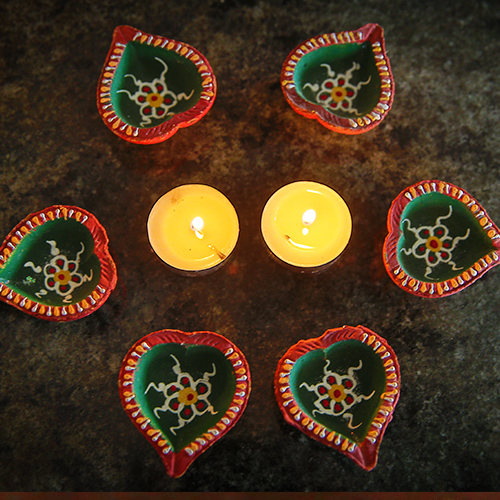 For Sikhs, oil lamps and candles are lit in the home and the family will visit the Gurdwara (Sikh temple) for prayers. Again, sweets are shared and fireworks are lit. And I have to say that this is a wonderful time to visit the Golden Temple in Amritsar as the whole place is glowing in candlelight. It is an absolutely beautiful site to see.
I love Diwali as it represents family time and a feeling of peace. Going to the Gurdwara and lighting a candle is the most significant thing because it's at that point I look to the future with positivity in mind, but also remembering the past and the people who have shaped my life. Going a bit deep today, aren't I?!?
Back to Blog