It's not just the Irish who celebrate this holiday. From packed British pubs to Americans turning rivers green, a lot of people get involved. Along with Guinness, a big favourite is whisky.
Us Indians share a few life loves with the Irish from living in large extended families, to loving a good old knees up and of course we both share a passion for whisky. This was my dad's tipple of choice and he loved nothing better then coming home after a long, hard, day to a glass of his favourite whisky. The love for both the whisky and the Irish has transcended through our family especially with my brother who loves both his whisky and his Irish wife (probably in equal measure)!
Whisky in India
Scotch whisky was brought over to India by the British in the 19th century, leading to the conversion of the Kasauli Brewery into India's first distillery in 1820. While whisky is traditionally made with grains such as maize, wheat or rye, in India whisky is often made with molasses – a by-product of sugar refinement. It makes sense with such a large sugar industry in India, but many argue that without grains it isn't really whisky at all. Some argue it has more in common with rum, which might not be such a bad thing.
That hasn't stopped entrepreneurs from trying to keep links with Scotland alive. In India you can find brands with names like Bagpiper and McDowell's, even if what's in the bottle shares little similarities with scotch.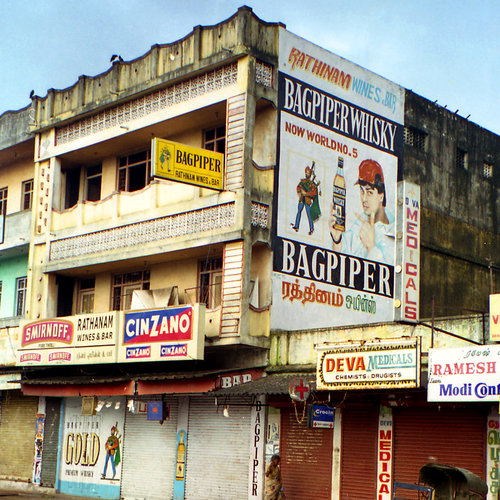 Of course, what's important is if it tastes good. The problem is that a lot of Indian distillers' recipes are subject to change based on affordability of ingredients. A bottle of Bagpiper in March might be very different to one in September.
Should connoisseurs try Indian whisky?
Absolutely! It's delicious and, integrally, unique. The hotter climate means the angel's share, or the amount of alcohol that evaporates during ageing, is around 12% in India compared to 2% in Scotland. Supposedly one year of ageing in India is worth three in Scotland.
Amrut
You can't talk about Indian whisky without mentioning Amrut. This was the first single malt to be made in the country…it only took until 2004!
The name comes from the Sanskrit word amrita, meaning 'nectar of the gods' and it certainly lives up to its name. The Amrut Fusion Single Malt Whisky was ranked as the third best in the world by aficionado Jim Murray when it was released in 2009 and it's been winning awards ever since. Murray suggests enjoying it in "silence", which sounds nice, but I prefer sharing it with a friend over deep conversation. The whisky purists should love this, especially as it includes Scottish barley; a little nod to the spirit's old Gaelic history. Amrut Distilleries put out a number of variants too, I'd suggest giving them all at least one try…although maybe not all at once!
Paul John Whisky


The name doesn't exactly shout India, but don't be deceived. Paul John Whisky is produced in Goa with malted Indian barley, although it does get some help from American bourbon casks and Scottish peat. It only launched in 2012 and received an award from Jim Murray, winning his Liquid Gold Award. It'll come as no surprise that my favourite thing about Paul John is the initial spicy taste, while the sweet tail end is a great finish. For those who aren't big on drinking neat, adding water is a great compliment to this blend. To me, this is the perfect whisky for a celebration. Any celebration to be honest, even the small ones. With nothing to celebrate, it's excellent for those winding down, end of party drinks when the dancing is done.
So for St. Patrick's Day this year try something a bit different. India has a lot more to offer than just the amazing food. If whisky isn't your bag then perhaps you should check out some of my Indian cocktails instead.
Back to Blog