Having returned from the wonderful place that is Dubai recently, I just had to share my experiences with you.
Over the years, I have been very fortunate in my career to have worked in some wonderful kitchens with some highly talented chefs, so when the opportunity arose for me to work with the food and beverage team at the Emirates Golf Club in Dubai, I jumped at the chance. In preparation of the launch of their new bar called The Spike bar, they asked me to improve their Indian food offering, and I loved every minute of it.
Read on to discover behind the scenes happenings and my diary account of what was a highly memorable and rewarding trip.
Saturday 18th November
6am – Airport
I flew out to Dubai with Emirates which I have to say was a great experience – great staff, great meal, great flight. It was wonderful to switch off for a few hours, watch a few movies and glide through the skies with a few glasses of wine, what luxury!
6.30pm - Dubai
It was hot; 30 degrees in fact and that made me very happy. I arrived at the hotel at 9.30pm and enjoyed a bite to eat, followed by bed in preparation for the busy day that followed.
Sunday 19th November
7am – I was wowed by the daylight view from my hotel room.
9am – I headed to the golf club with Nik Cuomo, the executive chef of the club. He has lived in Dubai for 10 years but is originally from Malta. We chatted about the project with all the enthusiasm it deserves and I spent the journey staring out at the huge buildings and developments occurring everywhere – what a place!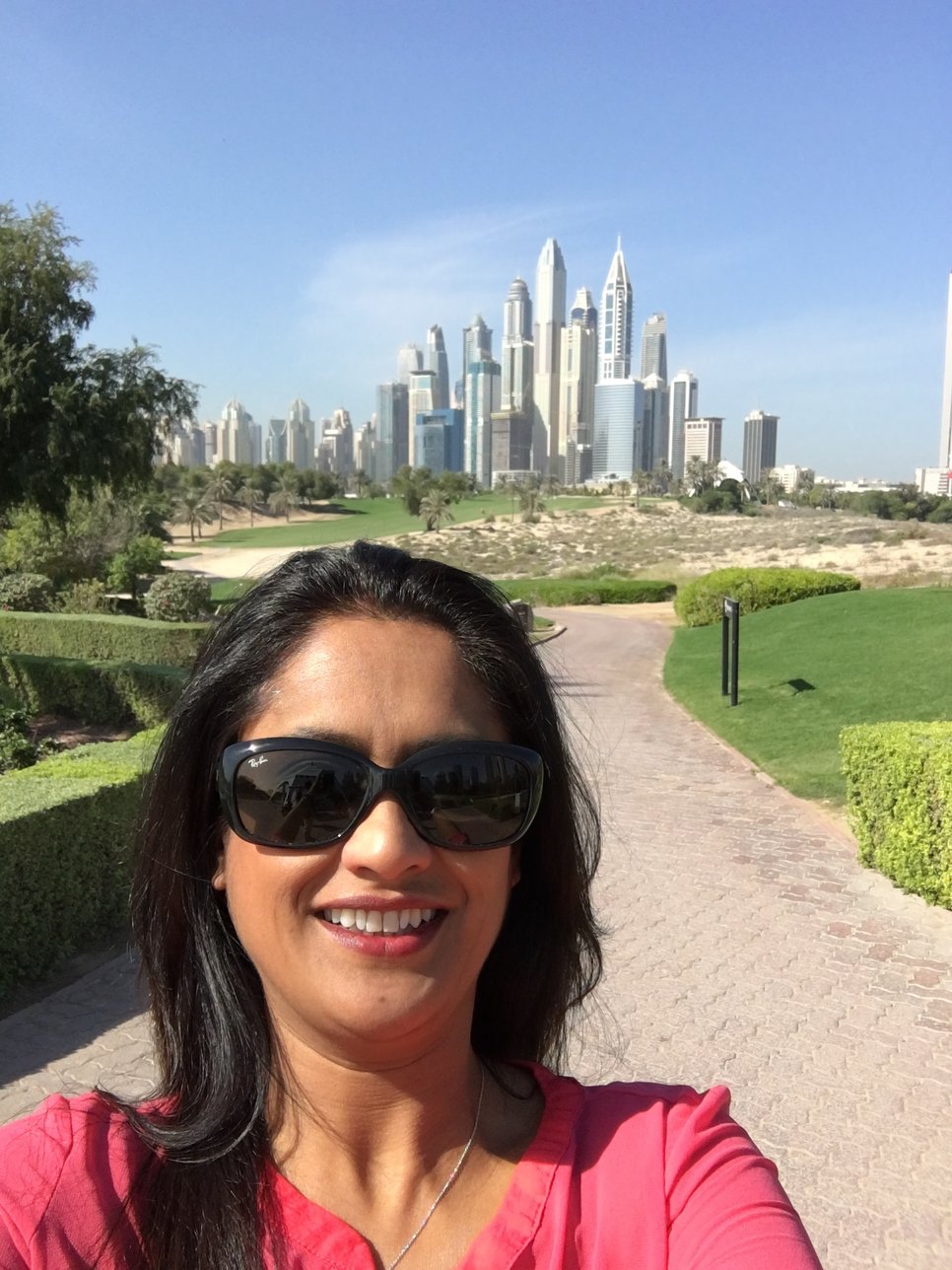 11am – Tour of the golf club and the new Spike Bar
I began meeting various team members – the GM is from the Midlands, so I felt at home so quickly. I climbed into a golf buggy to see the club in its full glory – it is such a beautiful golf course in the middle of the bustling city of Dubai.
The Spike Bar at this stage still looks like a construction site – and we were all worrying as we were opening for a media launch the next night!
1pm – Lunch with the team
We settled into the newly opened Jones the Grocer for lunch. It's a casual coffee shop and deli that comes from Australia with great coffee, cakes and food. I chose fish and chips with a pea puree to fly the British flag. #Happy!
2pm – Staff training
This is when I met the key members of Nik's team who will be cooking my dishes on a daily basis so they need to know the dishes inside out.
Chefs whites on, we work through 12 of my dishes that will be on the menu for the new Spike Bar. Starting with the curries, I talk them through what is important about each dish. I cook each one for them, asking them to taste the dishes and answer their questions as we go along.
8pm – We start to design the presentation of each dish, accompaniments, garnishes right down to the plates and bowls.
9pm – Back to the hotel – it has been a long day so I opt for a glass of prosecco and bed!
Monday 20th
8am – Coffee!
9am – I start to cook, get the garnishes ready and set up the plates for a photoshoot for each dish.
1pm – Lunch with the Director of Support Services. We taste test each of the dishes to ensure everyone is happy and optimal excellence.
2pm – We set up for a cookery class with the Dubai media, including Time out Dubai, Love in Dubai and many more and start to cook the dishes they will be sampling.
3pm – Staff briefing for front of house to discuss the menu dishes, show them what the dishes look like and how they will be served. We talk about allergens and key flavours so that they can present the menu to guests in the most informative way.
7pm – I enjoy interviews with various magazine journalists, bloggers and media outlets with the marketing and PR team for the venue.
8pm – Cookery class under the stars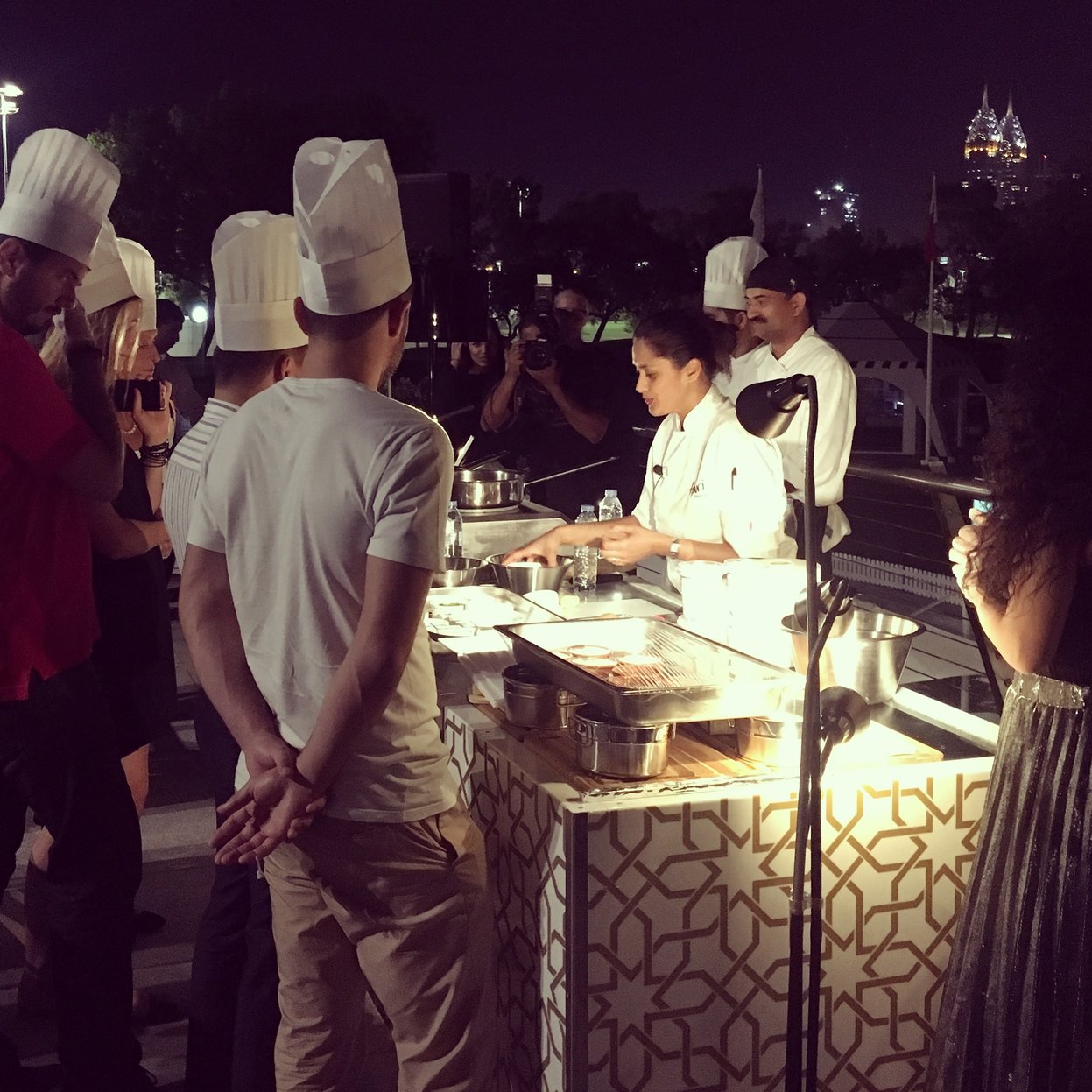 I teach the guys how to make samosas, tandoori chicken and lamb sheekh kebabs.
9pm – Tour of the new Spike Bar and dinner with the journalists
The construction site has miraculously been transformed into bar – now that is impressively fast work!
11pm – Back to the hotel, where I fall into bed.
Tuesday 21st November
9am – Spike Bar Members launch day!
The official opening of the club and terrace to all its members.
10am – I stroll along the beachfront and have a little paddle in the sea – well you have to don't you? It was wonderful to take in my surroundings, this amazing opportunity and what still lay ahead.
2pm – Head to the golf club
We are serving a selection of nine different canapes I designed to the club members, giving them a taster of the new menu and the flavours they will experience:
- Chana chaat
- Dhokla
- Tangy okra chips
- Kasundi muchi
- Spiced fish cakes
- Bondas
- Courgette and onion pakora
- Masala prawns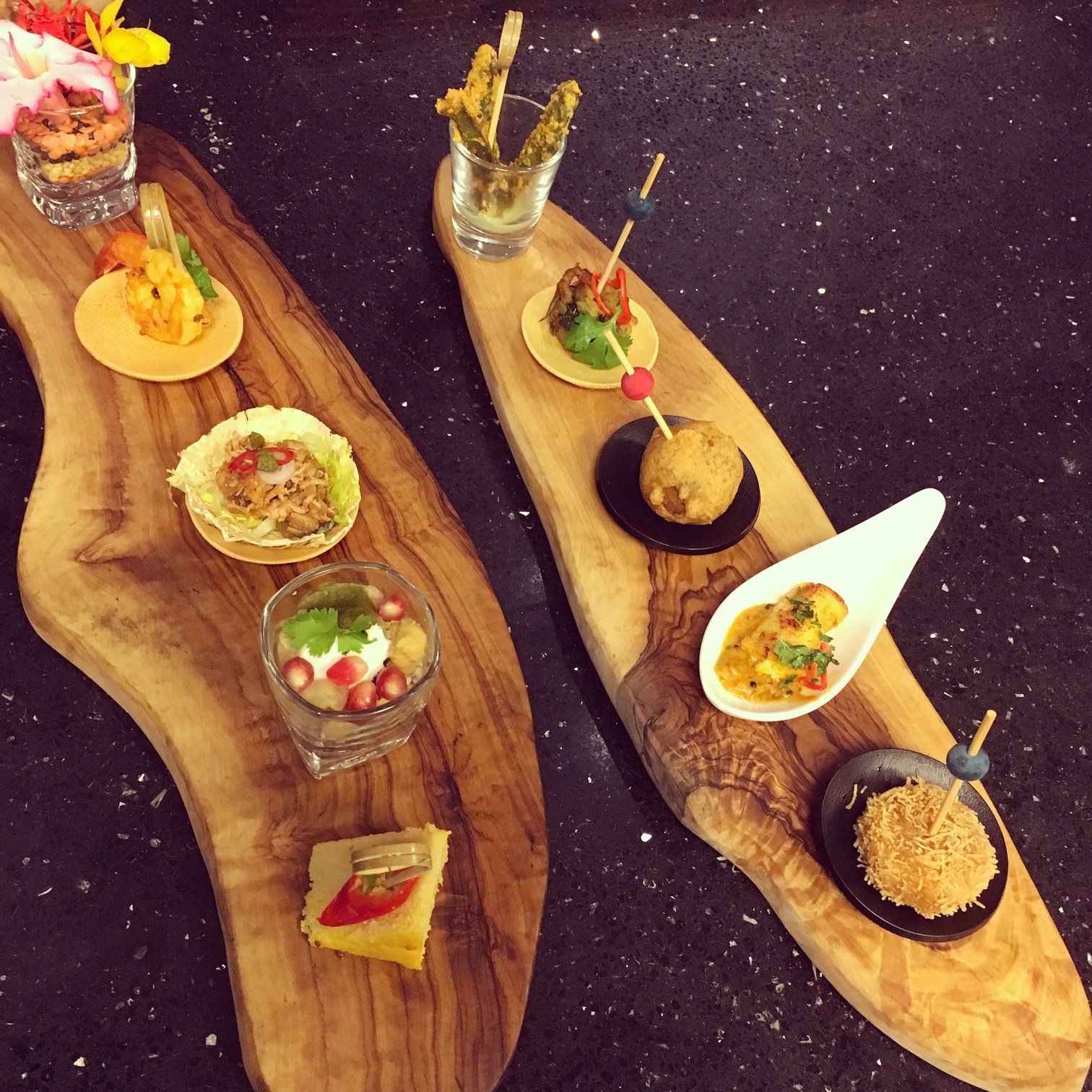 6pm – Guests arrive – all 150 of them and the official opening starts.
Having prepared for service, I have a final brief with staff and the doors open – eek!
8pm – Speeches begin and I am officially introduced to all the members.
I meet and chat to lots of the members about the food, about me and what I do and so far, the canapes are a hit!
12pm – Back to the hotel, Zzzzzz…
Wednesday 22nd November
9am – Head back to the golf club
11am – I set up for a cookery class with 15 Lady Captains – something tells me this is going to be a tough crowd!
12pm – Staff opening of the Spike Bar
I help the chefs set up the kitchen and get organised for the first real service. The orders start to come in and the first one is for one of my dishes - lamb chop curry, and it's a total hit! A few hiccups are always expected but the guys did a great job.
1pm – The Lady Captains arrive to experience my menu. I introduce them to the dishes and we treat them to a selection of starters – prawns, bondas, squid and paneer pakora. A trio of curries is up next – korma, chana and kale curry and paneer makhani.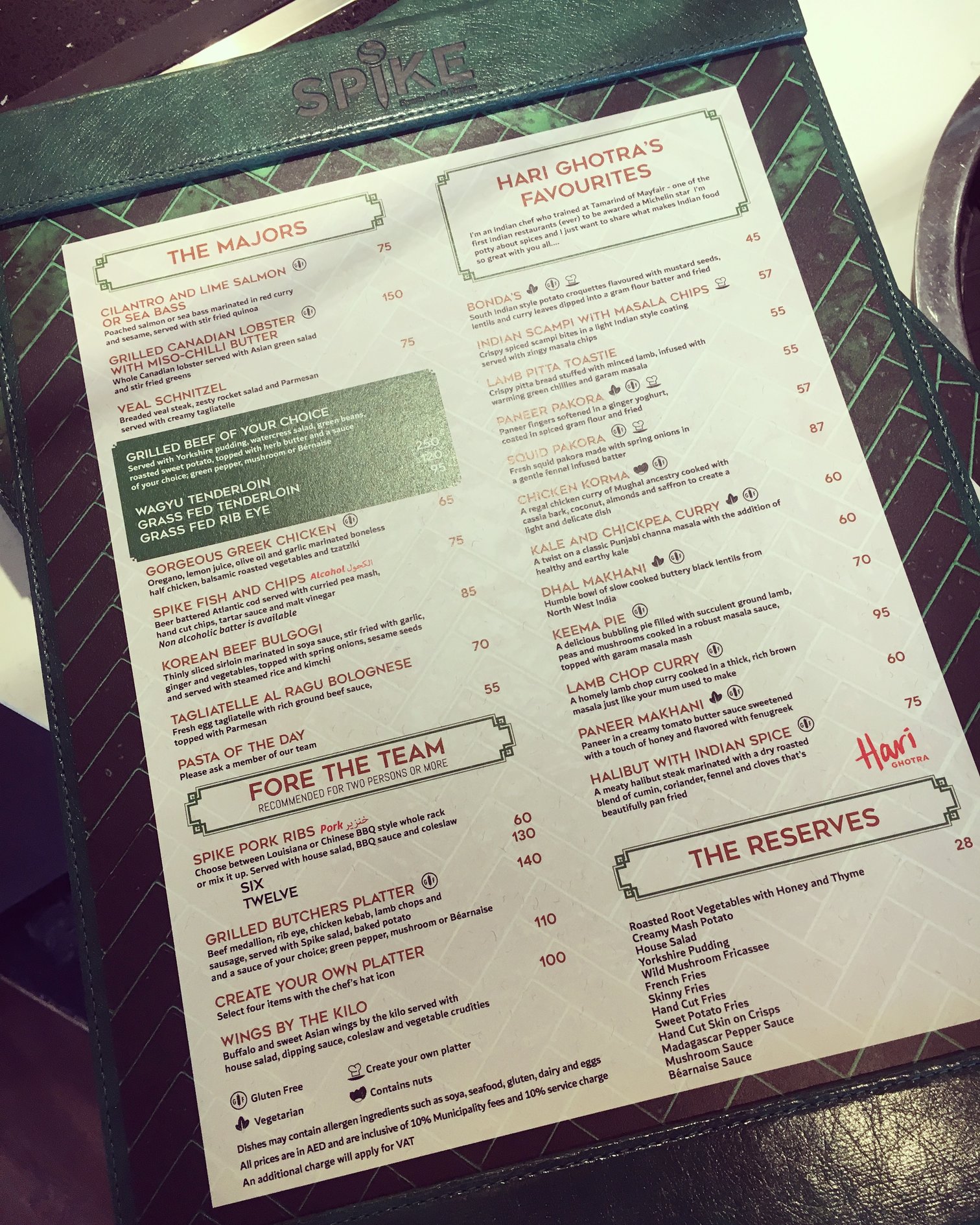 2pm – Cookery class on the terrace
5pm – I meet with the Lady Captains to discuss continued recipes to be featured in their Golf Magazine.
6pm – Serve in the spike kitchen
9pm – Back to the hotel and bed, there is a theme here isn't there?
Thursday 23rd November
10am – Arrive for the final day
Final check and review of the week's activity with Chef Nik. Update of menus for the team and final recipe handover to the team at the club.
11am – Travel to the second Golf Club for a meeting with the Culinary Director and tour.
12pm – Lunch at the Boardwalk Restaurant where I meet a school friend of my Head Chef who I worked with at the Tamarind Restaurant; what a small world!
4pm – A little sight-seeing and visit to the Berg Khalifa to watch the fountains, followed by dinner. I have to confess, being waited on ad having my food cooked for me was a real treat. Time to relax.
Friday 24th November
9am – Travel home to good old blighty (three degrees and rainy), what a difference.
It's always great to meet new chefs and to be able to share knowledge and skills, and I feel so privileged to have my dishes being enjoyed half way around the other side of the world. This has been a career highlight and I'll remember it forever.
It's great to be back and to start the next exciting chapter – the festive period! I love Christmas and this year I'm hosting, so it's going to fun – time to get organised and start decorating.
If you're looking for Christmas gifts (I've not even started yet), do check out my book for keen budding chefs who want to save time by using a slow cooker. It is brimming with over 70 recipes. Making authentic Indian cooking even easier, you might want to try my curry kits for specific favourites. They contain all the spices you need and simple step by step instructions. Now you've no excuse, get cooking and enjoy.
>Hari. x
Back to Blog