Recently, my kids and I have spent many an evening carving Olaf from Frozen and Minecraft townsmen (or at least attempting to) out of the biggest pumpkins I can lay my hands on in attempt to win the school's Pumpkin contest. No pressure there then!
It's not just the family that have been getting creative with pumpkins either, look what the team got up to last week in the kitchen whilst shooting our latest recipe video - some great ways to use your pumpkin.
And who knew that Kate was so talented when it came to pumpkin carvings, love anything Hari branded - pretty impressive team hey!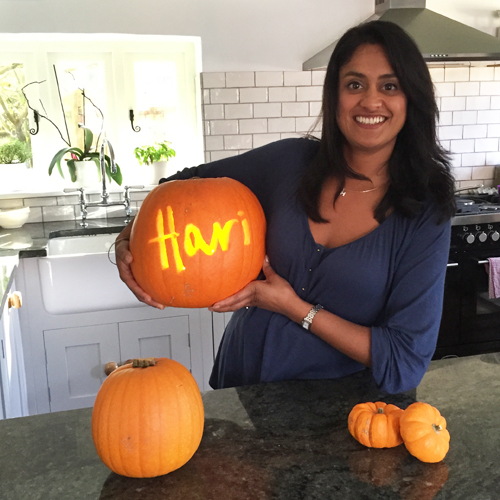 Cooking Pumpkin
Anyway, heading back to the kitchen (with all the pumpkin innards) and sticking to what I know best, the pumpkin is one of the world's most fab vegetables to cook with.
It's a symbol of the beginning of cold winter nights and all that tummy tingling food that's good for the soul (like my one pot Lamb Dhansak). From punchy pumpkin pie to fragrant curries, soulful soups to Indian Halwa, the pumpkin is a powerful all-rounder and it's great for all the family.
Pumpkin works particularly well when used in curry dishes and in my favourite Pumpkin curry dish I make it a bit more special with the use of a very special ingredient called amchoor. Amchoor is a powdered spice used in Indian cooking made from dried, green mangoes and it adds a sour fruitiness to any dish. It can be found in most Indian grocery shops, but if all else fails just try a squeeze of lemon juice instead to create a harmonised mix of sweet and savoury.
Many savoury Indian dishes that are cooked with pumpkin tend to have the addition of a little Jaggery (Indian sugar) to enhance the sweetness further.
Sweet tooth
Pumpkin and squashes in general are widely used across India and the Middle East to produce dessert type dishes. Halwa is the generic term given to many types of dense sweet confections. In India Pumpkin Halwa tends to be prepared in Hindu households before any fasting (vrat) periods to help keep energy levels up. It is also eaten as a delicious sweet snack for elevenses (as I say they love their sweet dishes in India), as well as being turned into beautifully coloured chunks of sweetmeats which are given out on special occasions such as Diwali and birthdays.
For a spicy curry my top tip is to cook the pumpkin down until it's soft but lumpy in texture, almost like sweet potato mash just with the extra punch of chilli heat. This will make the pumpkin perfect for scooping up with a roti. For a dessert make sure you cook it until any liquid has evaporated and it starts to come away from the sides of the pan so it is think and lush in texture.
Anyway, if you love vegetables then using pumpkin is an absolute must. It's quick to cook, fun to prepare, completely delicious and soooo versatile – oh and it will make a great side dish to accompany your Hallowe'en Indian feast too (which I know you are all planning).
But before I forget, pumpkins are full of lots of good stuff that keeps us healthy too. Have a look at all the exciting facts I have dug up about pumpkins and squashes - Did you know that courgettes are squashes too?!? Well they are, but they are known as summer squashes so you don't have to wait until the Autumn to indulge in this wonderful group of vegetables!
Check out this fantastic infographic for even more squashy info!

Infographic provided by Hari Ghotra
To embed this infographic in your website, simply copy the code below and paste it into your site:


<img src="https://www.harighotra.co.uk/images/blog/SQUASH_INFOGRAPHIC.jpg" alt="Squash Infographic showing the health benefits of Squashes" />
<p>Infographic provided by <a href="https://www.harighotra.co.uk/">Hari Ghotra </a></p>

Back to Blog