I'm going to let you into a little secret that will transform your cooking - and it's called garam masala.
This spice blend hails from the Punjab in the North of India and it's so wonderful and fragrant that you can use it in anything, and with anything, to add exotic flavour.
Translated, garam means 'warming' and masala means 'spice blend' and it more than lives up to its name. It's made from a combination of spices that have a delicious intensity and it gives a warming heat when you eat it, though interestingly doesn't contain any chilli.
I'm a big fan of this spice and love the unique freshness it brings to dishes. Garam masala is one of those family recipes that's passed down through the generations and is adapted according to personal taste. It is a vital part of cooking in North India but can vary from region to region, with some areas using more mace or carom and others using more cardamom in the blend.
Using Garam Masala
But the variations don't end there. Different cooking traditions dictate that you use the spice blend at different stages of the cooking process. I've always been taught that garam masala is used at the very end to bring all the flavours together and lift the aromatics as you serve the dish to your guests. So I add my own special blend as my final cooking flourish.
But other cooks use garam masala as a base spice and then heighten specific flavours by adding more of an individual spice to extenuate their dish.
One of my favourite uses for it is in marinades - from wet yoghurt based marinades such as tandoori, oil rubs like the one I use on my spiced salmon or even dry rubs to really get flavours penetrating into meat like my Tamarind ribs (recipe coming soon).
It's very versatile and not just for use in the Indian kitchen you can use it to jazz up a piece of fish or meat which can then be grilled or baked for some added Indian(ness). Just by the very nature of this spice blend it will give you a wonderful warming cuddle and that's why it works beautifully in winter warming stews, on those crispy Sunday roasties and omelettes will never be the same again once you sprinkle in a little of the magic powder too.
Making Garam Masala
I'm a busy working mum, so I'm no stranger to short cuts. But when it comes to garam masala, taking the time to make your own rather than relying on supermarket versions really pays off. Why? Well, many commercially produced blends can be less fragrant and complex than those you can produce yourself. The bought stuff will have been around a fair while before you buy it, so it won't be as aromatic as yours. I choose to make my own and because I love to share, I am going to give you my family's blend of garam masala so you can make your own (just don't tell my mum!).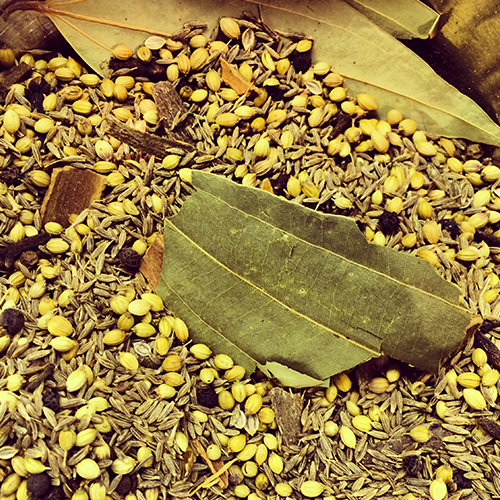 I have rich childhood memories of my mum putting her blend together. It was a really long and involved process and the house would smell intoxicating for days. Back then, it was a struggle to get hold of the spices and even then the quality wasn't great, so mum would have to wash them to get rid of any soil and grit. She would then dry the spices on sheets of plastic in the garden, which would take days. I would help her put the spices out in single layers, bringing them all in at night and putting them back out again the next day. She has since said that stopping us children from riding our bikes over the seeds or running through her prized ingredients while they dried was a real challenge and I can see her point! Once dried through, mum would have to hand-grind them all in a pestle and mortar. It makes me feel very grateful every time I flick the switch on my hand blender today, I can tell you...
Storing Garam Masala
It's best to prepare garam masala in small amounts, so I usually make up enough to fill a coffee jar and use it within one month. That said, if it's stored correctly it should be beautifully fragrant for up to six months. Storing spices correctly is really important because as soon as soon as whole spices are ground, they begin to give off their natural oils and aromatics. Spices are meant to make your food sing but if all they do is make it taste dusty it might be time to invest in some fresh stuff.
So here how to make sure it stays fresh:
Once made, store your spice mixture in an airtight container, preferably a stainless steal tin
Keep your storage tin in a dark place
Store away from a heat source (like the cooker)
Keep away from direct sunlight
Decant into a masala dubba (spice container) for everyday use
My Punjabi Garam Masala Recipe
All you need to make about 3 tbsp of fresh and fragrant Garam Masala is:
2 tbsp cumin seeds
1 tsp black peppercorns
1 tbsp coriander seeds
3 cm stick cassia bark (broken into bits)
½ tsp ajwain (also known as carom seeds)
2 black cardamom
5 cloves
4 green cardamom
2 bay leaves
1. Put all the spices into a grinder, blitz and enjoy.
So there you have it - a taste of my mum's kitchen for you to enjoy!
Kashmiri Garam Masala
This gives more of an aniseed flavour and is used in the Kashmir area. There are a couple of additions - fennel seeds, black cumin and mace is optional. I use the following recipe.
1 tbsp fennel seeds
2 tbsp black cumin seeds (Shahi Jeera)
3 slivers of mace
½ tbsp green cardamom seeds
3 tbsp black cardamom seeds
3 sticks cassia bark
1 tbsp cloves
¼ nutmeg
1 tbsp cumin seeds
2 tbsp black peppercorns
1. Put all the spices into a grinder, blitz and enjoy.
Back to Blog