As the days get longer and the sun starts to creep out we know that food festival season is about to begin! The food festival has literally exploded over the last few years and it is fabulous to see so many people out there sharing their love of cooking and the food that inspires them.
I was lucky enough to get invited up to Scotland last week to explore the Paisley Food and Drink Festival and it was such an amazing day. Now, if you have ever flown up to Scotland you will know that you fly up in a tiny plane - I did not know this! It didn't worry me, I was actually quite excited to get on board FlyBe plane Dash 5 - he was brilliant and I loved it!!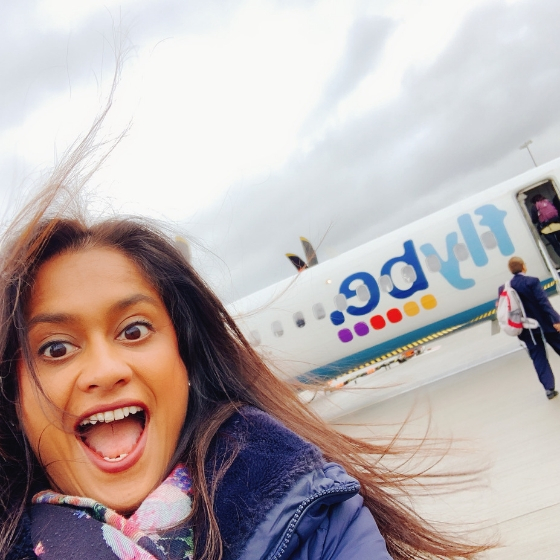 I've never been to Paisley - what a wonderful city with beautiful architecture and lovely people. Did you know that the paisley pattern (the intricate teardrop), is an Indian or Persian design but it was actually made in the textile mills of Paisley in 1800's. The design was made famous by Queen Victoria who wore a Paisley patterned shawl and it was given the name the Paisley pattern!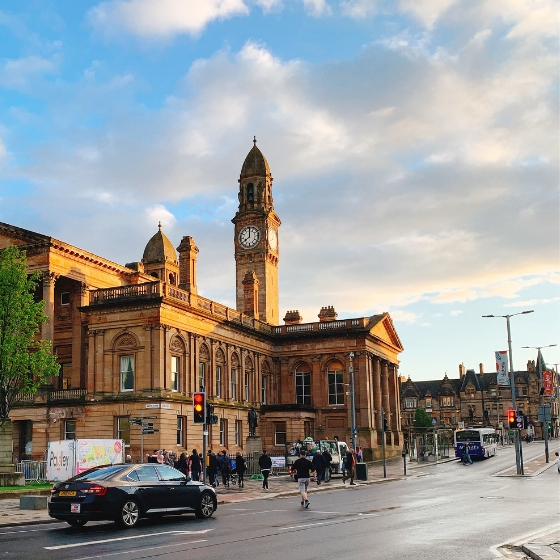 Food Stands
It used to be just ice cream you could get from a van but now you can pretty much find a van for everything - from pizza to prosecco and crepes to curry, these very talented vendors have it all covered. I do have to mention that I take my hat off to all the vendors. I have been on their side of the van and it is flippin' hard work. It's not just the day, it's the three days prep before hand, it's the build, it's the weather worries, it's the serving and then the break down - yep it's exhausting so I was thrilled that the weather held out in Paisley and I think they got about 20,000 people through the doors!
Street food culture in the UK has gone crazy and when you get to taste some of the good stuff it's such an amazing thing. There were over 40 food outlets with a huge vegan offering, food from around the globe and lots of sweet treats, so they had all bases covered.
As you can image I went on a spice hunt straight away and within 5 minutes I had found an Indian trader called Babu Bombay Kitchen serving - yes Haggis Pakora with a whisky sauce! Happy....I was over the moon. What could have been more Indian and Scottish?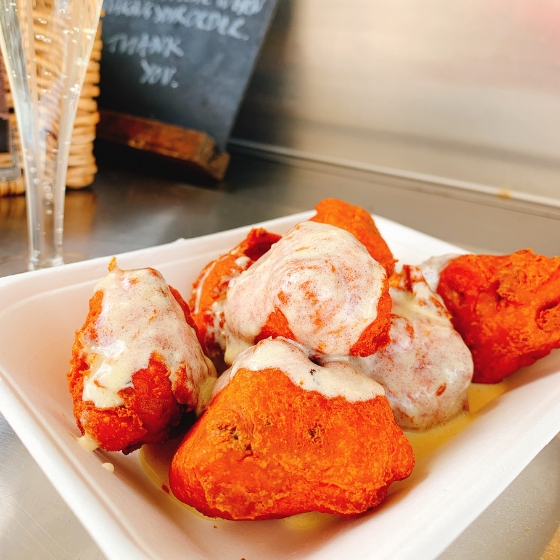 If you want to try these at home then here is my recipe:
Haggis Pakora
250g haggis
1 small turnip, grated
1 potato, grated
handful fresh coriander, chopped
Salt to taste (haggis can be salty so don't add too much)
1 tsp garam masala
1 tsp cumin seeds
1 green chilli, chopped
½ tsp Kashmiri chilli powder
Batter
250g garam flour
1 measure whisky
Method
Squash the haggis, turnip and potatoes in a bowl.
In a second bowl add the flour, whisky and add the spices and mix together.
Add a little water make a thick batter.
Coat small balls of the haggis mixture with the batter and deep fry in small batches for 4-6 minutes until cooked through.
Take out and drain on kitchen paper.
This was very closely followed by an interesting Indian/Asian concept called Chilli and Ginger who were serving Asian Bau buns filled with Butter chicken or spicy paneer. The buns were so light and soft and the paneer was delicious.
I do have to mention the vast number of vegan offerings they had at the festival lots of stall serving vegan hagis and chips and vegan fish and chips too.
Their were some fabulous drinks vendors too the Fizz Buz a mobile Prosecco cart (I think I need one of these) being a favourite but the Rum Shack and Gin stands were pretty good fun too.
There really was a fantastic choice of food and drink on offer in this wonderfully picturesque and hostoric city that it was well worth the trip to Paisley.
Disclaimer: This was part of a Press trip in association with Paisley Council but it didn't influence my views of the event in any way.
Back to Blog