The word 'marinating' is one that has reference to the use of brine to tenderise or pickle key ingredients. This method developed into a process for adding flavour through the immersion of ingredients in a liquid known as a marinade.
The 'marinade' (or immersing liquid) must have specific properties for it to work correctly. It should either have an acidic element, such as vinegar, lemon juice or wine, or it needs to have active enzymes, like green papaya or pineapple.
The Purpose of Marinating
The process of marinating is to break down the tissue, which allows more moisture and so more flavour to penetrate it. This results in a moist and flavoursome end product.
Most marinades also contain several other ingredients in them so that more flavour can be infused. Ingredients such as oils, spices, herbs and seasoning tend to be added to the penetrating liquid.
Tougher cuts of meat can be marinated to tenderise the meat and make them more pleasing to eat. The process of marinating can take between a few seconds right through to a few days.
The balance of acid, oil and spices or herbs is very important in a good marinade. If this balance is not there, it can result in the tissue breaking down too much, resulting in an unpleasant texture. For example, if raw meat is marinated and then frozen, the marinade can break down the surface tissue too much, leaving you with a mushy outer layer of meat.
Marinating Safety
When marinating raw meat or fish (especially pork, seafood, beef and poultry), the meat may contain harmful bacteria. So, if you are marinating for over an hour, the meat should be refrigerated to inhibit bacterial growth.
The remaining marinade should not be made into a sauce unless it is cooked (boiled) and rendered safe before use. It's always best to set aside some 'clean' marinade to be used for sauces.
I would recommend always using a glass or food-safe plastic container for marinating because metal and ceramic bowls may react with the acid in the marinade due to their glaze, which can contain lead.
Indian Marinades
Marinating is a fantastic way to infuse great flavour into both vegetable and meat and it is relatively simple to do. It's easy to create a delicious meal in the evening by leaving your ingredients to marinade during the day. Here are some of my favourite Indian marinade recipes to inspire you.
Many Indian dishes require the use of marinades and yoghurt marinades are very popular. Tandoori Chicken is probably the most famous.
The yoghurt in these recipes has a few functions. Firstly, it acts as the acidic ingredient to tenderise, and secondly, it acts as a mobiliser to allow the combination of different spices to penetrate deep into the dish, resulting in more flavour being infused. Thirdly, it acts to protect the main ingredient against the high heat during the cooking process.
Many Indian dishes require hung yoghurt, which is yoghurt that has been hung in a muslin to remove any excess water, making it really thick and rich. This can be easily achieved at home by placing the yoghurt on some kitchen roll and allowing the water to be pulled out before using it in your marinade.
This process is shown in my Tandoori Chicken video:
To make it super easy for you guys I have delevoped this amazing Tandoori Curry Kit too - This gives you all the spicy deliciousness and all you have to do is add the fresh ingredients.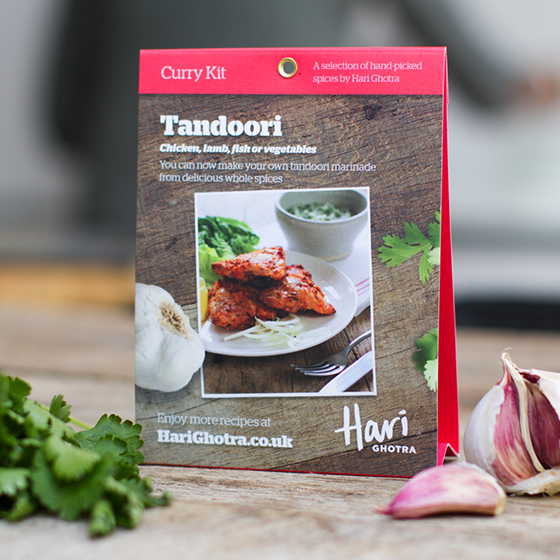 This is a really quick and easy marinade for you to try. I have used paneer in this dish, but you can also use chicken too.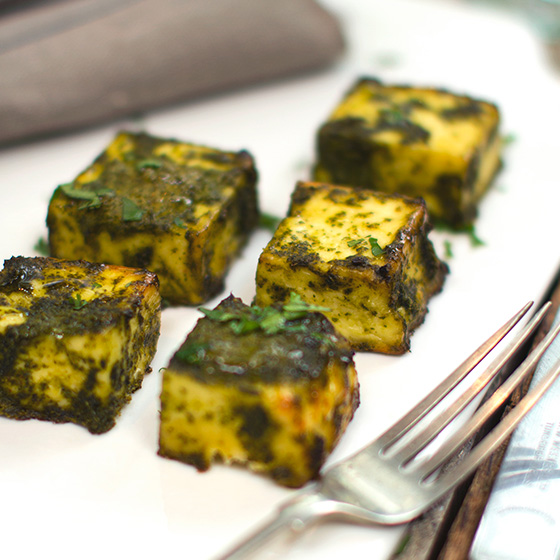 Ingredients
Green Marinade
100g spinach
50g mint
50g coriander
5cm piece of ginger
3 cloves of garlic
1 green mango
2 green chillies
1 tsp salt
2-3 tbsp Greek yoghurt
1 tsp chilli powder
2 tsp roasted cumin
1 tbsp oil
Method
1. Make the green marinade by placing all the ingredients into a blender.
2. Peel the green mango, chop roughly and add to blender. Blitz to a smooth paste.
3. Put the green marinade into a large glass bowl.
4. Chop your paneer into cubes or large rectangles - I like to leave them nice and chunky.
5. Add the paneer into the green marinade and leave for at least an hour.
6. When you are ready to cook them, heat the oven to 180ºc.
7. Place the marinated paneer onto an oven tray with a drizzle of oil and cook for 10-15 minutes until the cubes are cooked and a little browned on the outside.
Back to Blog