The Seed
The seeds are about 1 to 2 mm in diameter and are different colours, from yellow, brown and black depending on which specific plant they come from. The seeds have a nose tingling pungency which intensifies when they are heated. The pungency of the different seeds varies as well with black being the most pungent then yellow then the brown. The seeds can leave a bitter taste in your mouth if you are too heavy handed with them.
As a Spice
Mustard seeds are an important spice in Middle and Far East regional foods and in Indian cooking it is predominantly the brown seed that's used. In European cooking the yellow seed is used more frequently to make sauces and pastes.
Health Benefits
Like many herbs and spices, it has a number of healthy benefits; being high in selenium and magnesium the seeds can decrease inflammation and reduce the symptoms of diseases such as rheumatoid arthritis or asthma. The seeds and greens also contain calcium, iron, manganese, phosphorus, zinc, niacin, dietary fibre and valuable omega 3 fatty acids, which can lower cholesterol levels and protect us from heart disease.
Mustard products have been used for years to help reduce blood pressure. They can even help boost your immune system!
Indian Cooking
Mustard seeds are used more frequently in South Indian cooking and they work really well with curry leaves to fragrance oils. Mustard seeds are also crushed and hydrated to make pastes which are used in a number of dishes from this region.
In the Punjab, mustard is called 'Sarron'. The seeds are great for tempering and flavouring oils to give the dish a little extra bite and to add a nutty texture. Word of warning – be careful when cooking with mustard seeds because as they heat up they'll pop like crazy little fireworks so have the pan lid to hand to stop them flying out onto the cat (although as they pop, this is the time to add your next set of ingredients to the mix).
Often used for pickling, mustard seeds and powder make an appearance in green mango pickle. The fruit is preserved in mustard oil which is flavoured with salt, chilli, fennel and other spices and create a really delicious condiment.
Mustard Oil
Mustard oil is very popular in Asian countries and is used not only in food but also as a massage oil as it has intense heating properties. The oil is made from pressing the seeds and has a high boiling point. When cooking with mustard oil the standard process is that the oil is heated to smoking point (usually this destabilised oils but with mustard oil it enhances the flavour and improves the nutritional value) and then left to cool before adding spices. Mustard oil works amazingly well with fish and vegetable dishes.
It's also a favourite for head massages as it helps stimulate the hair follicles, improve hair condition and prevents hair loss.
Mustard Leaves
Mustard leaves are also used in the Punjabi dish Sarron da saag, which is a very special dish of pureed mustard leaves usually served with bright yellow corn rotis.
When cooking saag, mustard leaves are often substituted with the more readily available spinach. When I was growing up, authentic Indian spices and ingredients were not available like they are today so my parents had to improvise. Which meant that when they found something authentic it was a big deal!
I remember one occasion when we were on our way to visit friends. Suddenly my dad stopped the car, my mum beside herself with excitement. They both jumped out and ran into the adjacent field which was covered with a plant that had bright yellow flowers – I had no idea what they were doing but I remember sitting there watching them pick these green leaves in a crazed frenzy. Half of me was laughing and the other half was terrified that the farmer was going come out and shoot them! It transpired that they were pinching mustard leaves so they could cook their beloved, traditional saag. They were so excited when they got back to the car we sped off as fast as we could (well, it was an Austin Maxi…).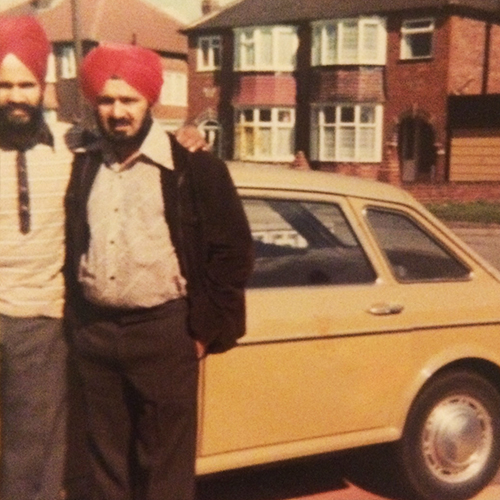 Back to Blog