Well, before you reach for the takeaway menu, pour boiling water over sad instant noodles or shove a frozen, plastic carton into the microwave, think about this...
You've worked hard all day so doesn't your body deserve a little treat? Your mind some good, nutritious refuelling? Of course it does! And not just a large glass of red. So I'm going to share my quick cooking short cuts, and six of my go-to recipes when I want to prepare a healthy, tasty meal in minutes. And you do the wine bit.
Plan ahead for easier work night meals
While you can't predict your boss asking you to work late or even ending up on a broken down train, there are a few things you can do to make preparing a weekday meal a bit easier. Here are my tips:
Try to plan the week's meals in advance. That way you can make sure you have all the ingredients ready to go, and you'll even save money by only buying exactly what you need. It's also much less stressful than having to come up with an imaginative dish after a long day at work.
If you're planning to cook meat from your freezer, remember to take it out the night before and leave it to defrost in the fridge.
Keep your freezer stocked with a colourful variety of vegetables from spinach to carrots to sweet corn. These can all be quickly added to lots of different dishes.
Make life easier and leave the ambitious gourmet feasts for the weekend when you have plenty of time. In the week, stick to healthy but simple dishes you can throw together without too much preparation.
My cooking short cuts
Now I have a few tricks and short cuts that I rely on to help me prepare some of my favourite Indian recipes if I'm in a hurry. I hope they help you too.
Keep peeled, chopped ginger and garlic in the freezer in ice cube trays sealed in freezer bags. (You can also use ginger and garlic paste, but I prefer chopping and freezing my own.)
Freeze chillies whole and chop as and when you need them.
Make up batches of a basic masala sauce and freeze, so all you need to do is defrost and add the meat and/or veg.
If you're in a hurry, find ways to adapt and speed up recipes – for example, I always reduce the marinating times.
Six quick and tasty Indian recipes
To help you put together tasty weekday meals in under 30 minutes, I've picked six of my favourite speedy Indian recipes.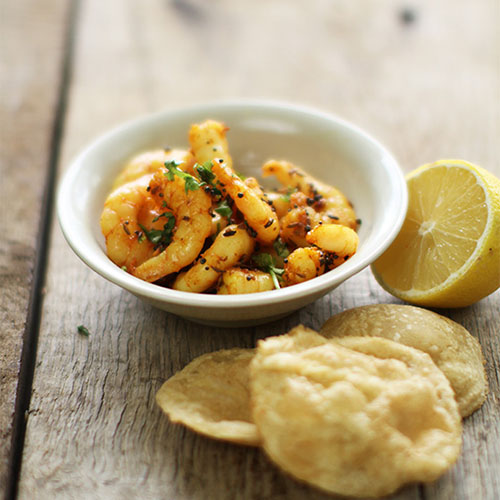 This zingy, spiced prawn dish can be whipped up in just 20 minutes. It's fresh, light and lovely served with a crispy salad, some rice or even piled on to some crusty bread so the lemony and mustard flavours get soaked up.
Great with a bowl of soft and fluffy plain rice, this simple, healthy dhal can be made in 30 minutes by adapting the recipe slightly and adding all the ingredients to the pressure cooker and cooking together (instead of making a separate masala).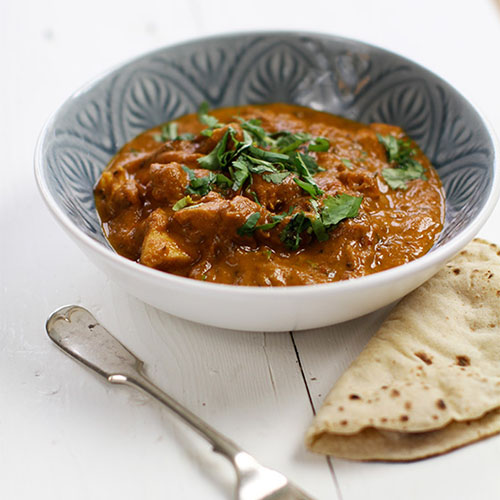 This hot and spicy coconut chicken dish is light, creamy and bubbling with coastal flavours. It's so easy to cook – no garlic to peel or ginger to grate, simply whiz up your onions and in just 30 minutes you'll have a meal that will hit the spot. If you love vegetables, try coconut veggies instead.
While it's usually best to leave your meat to marinate for as long as possible, sometimes I just throw everything onto a baking tray and cook it straight away. This chicken dish takes about 30-40 minutes to cook through if you are using whole legs but sometimes I cook it with thigh fillets (skinned and trimmed) which only takes about 20 minutes. It's delicious with a fresh, leafy salad, sliced red onions and a squeeze of lemon juice or you could try with with my spicy mango kachumber.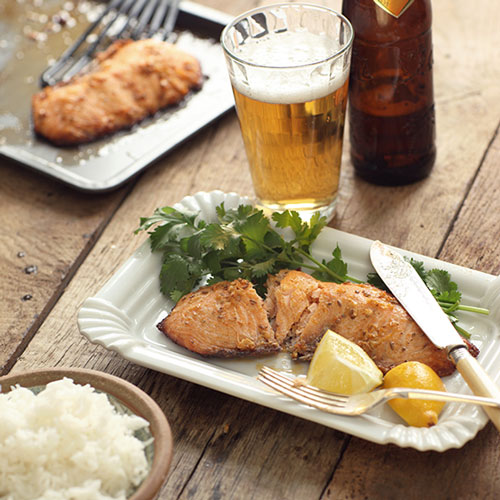 Forget fish and chips, this is a quick and healthy way to make sure you get your weekly fish intake. Just pop the fish in the oven and leave to crisp up – it should take around 30 minutes to prepare and cook. Make sure you squeeze over a good glug of lemon juice and a handful or coriander to wake up your taste buds.
In 30 minutes you can create a healthy rice pilau with a mixture of vegetables – just throw in whatever you can find in the fridge (a handful of mixed, frozen vegetables works just as well). For a quick all-in-one dinner pilau, use this recipe as a base and pop in prawns or chicken when you add the vegetables, then cover and cook. If you don't finish it, you can even take the leftovers into work for a quick lunch the next day.
Other favourite recipes in my family are Masoor or Red Lentil Dhal and rice, and runner bean curry - a quick and easy winner in the summer when the beans are in season (also delicious on toast).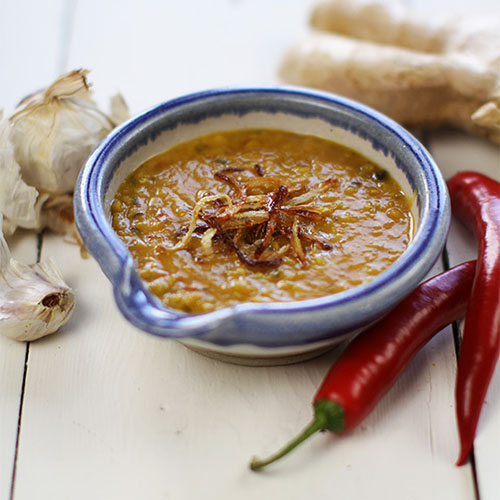 What are your favourite speedy recipes and tips?
I hope you enjoy these tips and recipes for quick, tasty meals. Do give them a go and let me know what you think of them. And if you have your own time-saving quick wins and dishes, I'd love to hear what they are!
Back to Blog