Creating some Indian-style sandwich fillings with a little touch of spice is a great way to jazz up your lunches, or to add a new dimension to your packed lunch for work.
Making your own sandwich filling is a great way to save those pennies at lunchtime, plus you can make anything you fancy - and you know exactly what has gone into it.
You can also opt for making them with low-fat mayo, using delicious wholemeal bread and adding some salad to produce an altogether healthier option.
Chicken Tikka Sandwich Filling
I love to spice up leftover roast chicken to make this Chicken Tikka filling. It's such a good way to use up leftovers and only takes a few minutes to make.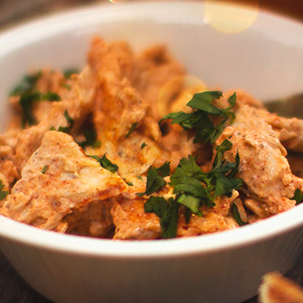 Ingredients
2-3 tbsp mayonnaise
½ tsp chilli powder
½ tsp garam masala
½ tsp salt
Tiny squeeze of lemon juice
Pinch of fresh coriander, chopped
100g cold cooked, shredded chicken
2 iceberg lettuce leaves
Method
Mix the spices and coriander into the mayonnaise.
Add the shredded meat and mix to coat it all.
Smear the filling onto some fresh naan (or bread) with some crisp lettuce and enjoy!
Paneer and Bacon Sandwich Filling
If you love a toasted sandwich then you just have to try this paneer and bacon filler. I always go for lovely thick cut smoked bacon for really good flavour.
This is what the Paneer & Bacon filling looks like in a Parantha.
Ingredients
100g paneer
1 tbsp cream cheese
2-3 rashers of bacon, cooked and sliced
1 or 2 chillies, finely chopped
1 tsp garam masala
1 tsp red chilli powder
Handful fresh coriander leaves, chopped
1 tsp dried fenugreek leaves
Method
Grate the paneer and place in a bowl.
Cook the bacon and slice into thin strips.
Add to the bowl with all the spices and cream cheese and mix together.
Place the filling onto a slice of bread and top with another slice of bread.
Butter the outside and grill in a frying pan or sandwich toaster until golden brown.
Tomato Chutney
I also love to keep a jar of my homemade spiced tomato chutney in the fridge. Smear it onto a cheese or ham sandwich and it will totally transform a boring sarnie into something exotic and wonderful.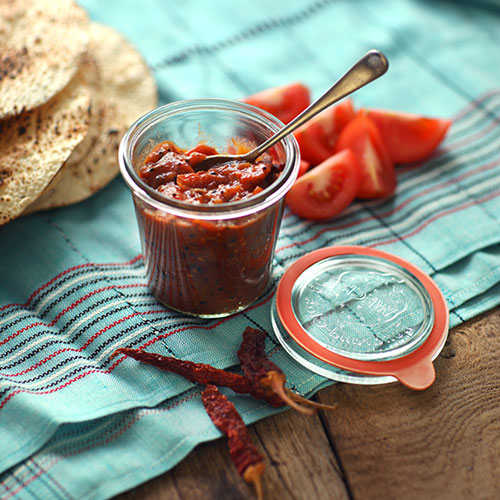 Ingredients
3 tbsp vegetable oil
1 tsp kalonji seeds
1 tsp fennel seeds
1 tsp mustard seeds
1 tsp cumin seeds
2 dried Kashmiri red chillies
1 red chilli, chopped
200ml white vinegar
250g jaggery or brown sugar
1 kg tomatoes, quartered
1 tsp salt, or to taste
1 tsp chilli powder, optional
Method
Dissolve the sugar with the vinegar in a bowl. Heat the oil in a heavy pan and add all the spices until they sizzle & become fragrant - this should only take a minute.
Very gently, pour the vinegar and sugar mixture into the pan with the spices and stir. Bring this to a simmer.
Add in the tomatoes and cook on a very low heat until they have softened and have gone pulpy (about 1 hour).
Season with salt and chilli powder and then stir to keep it from sticking. If you want to remove any of the tomato skins then do so with some tongs.
Put the chutney into a sterilised glass jar and leave to cool.
Once cooled, seal the jar. The chutney will keep for 4-6 weeks. Refrigerate once opened.
More sandwich fillings on the website
I have lots of other lovely sandwich ideas on the website too, like my Tandoori Turkey Filler and Lamb Pitta Toastie to make lunchtimes a bit more exciting!
Back to Blog