What is a Thali?
A Thali is a platter that is made up of several different dishes to create a perfectly balanced meal. In the Hindi language, the word 'thali' means 'the plate'. Traditionally, a thali comprises of a large metal tray hosting 4-6 smaller metal bowls. Each bowl contains a different dish, from vegetables and lentils to raita. Alternatively, a thali can also be comprised of different compartments on a steel tray.
It is believed that the thali originally comes from South India, where a selection of different dishes was traditionally served on a banana leaf.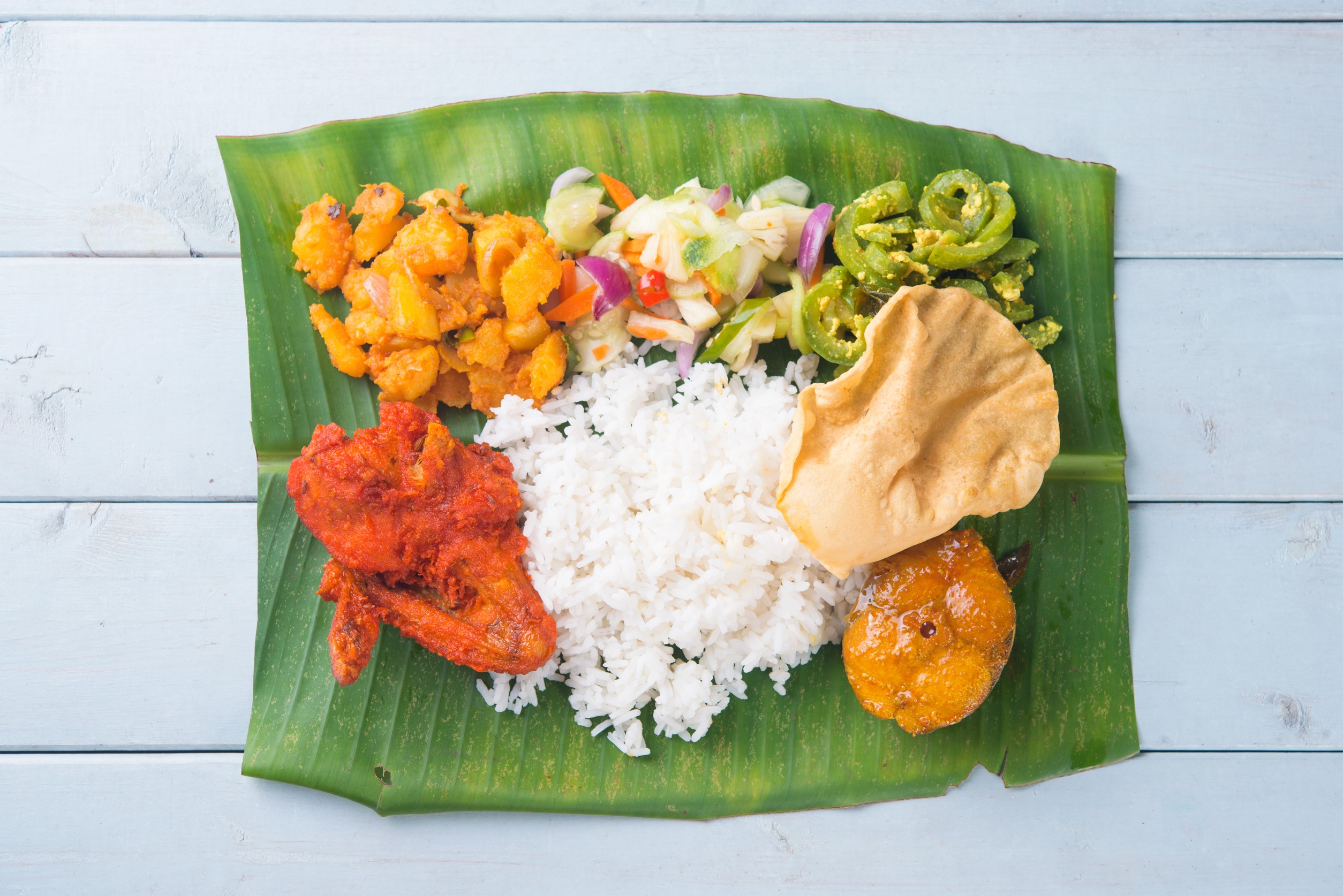 Source: Shutterstock
In a traditional thali, the different curries and sauces are placed around the sides with a heap of rice positioned in the centre. Each of the curries and sauces is mixed with the rice one at a time and eaten in a specific order.
The idea behind a thali is to provide a good, wholesome meal. In India, we believe that we have six distinct tastes: sweet, salt, bitter, sour, spicy and astringent. Each individual curry should represent one of the six distinct tastes so that the meal is totally balanced.
As well as being balanced in terms of taste, I think that this way of eating also helps to ensure that the meal is balanced from a nutritional perspective as well. With a thali, each of the food groups is always presented (carbohydrates, protein, milk and dairy, fruit and veg, fats and sugars).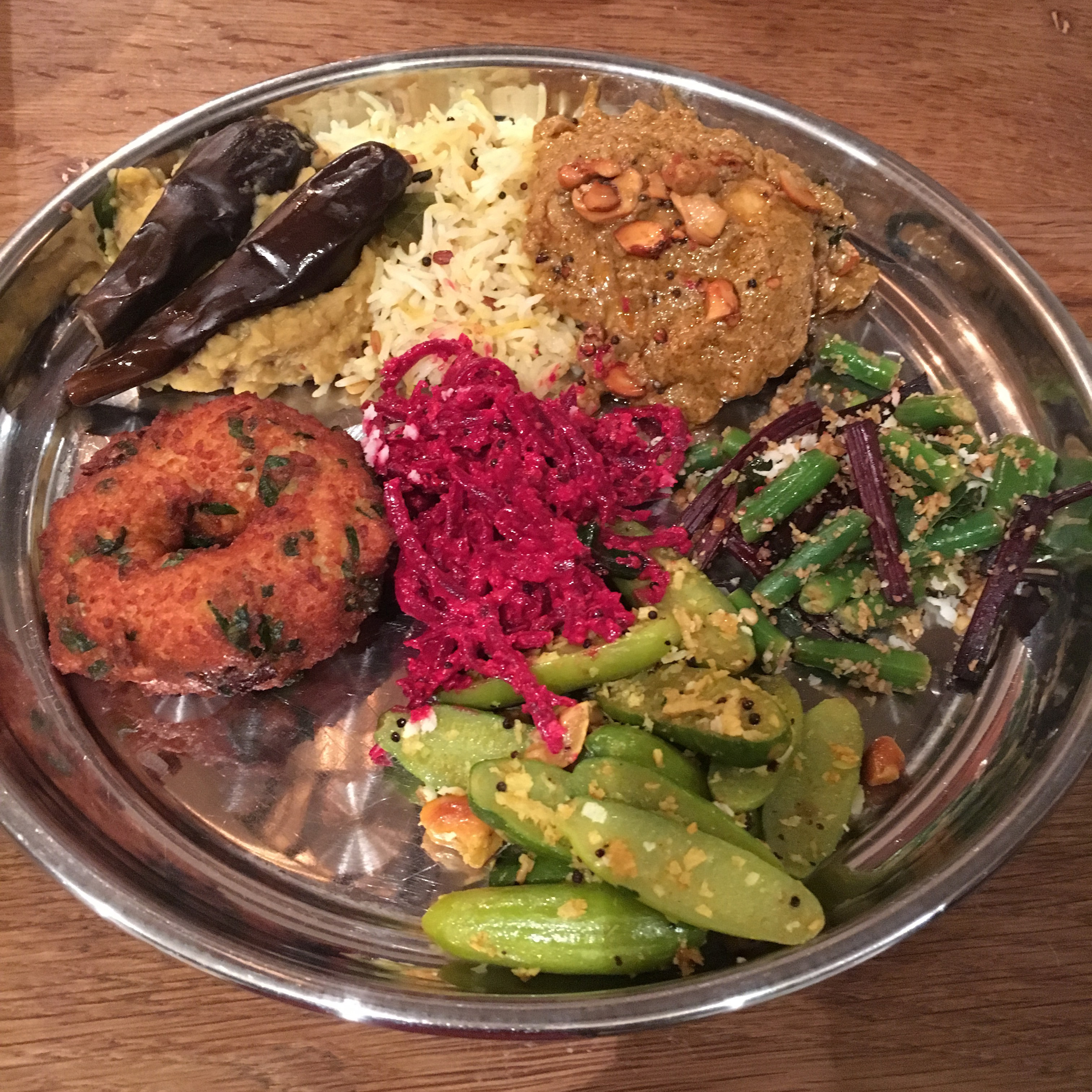 Source: South Indian Cookery Class at Food at 52
It's a far cry from how curries are eaten in the UK, usually by heaping a huge portion of curry over your rice. Eating a thali has a much more delicate process, with finesse and a certain style.
How to eat a Thali:
In the South, you are usually given a banana leaf that you wash with a little sprinkling of water before laying it on a table. In general, the thalis in the south are vegetarian, but you can also get meat and fish versions as well. Usually, three vegetable curries (dry and saucy) are placed directly on the leaf, while the sauces are positioned in small bowls (usually a sambar, vithal kozhambu, rasam, curd and sometimes a sweet payasam). There is usually a poppadum as well, which is eaten at the end.
The main rice component is heaped into the middle of the leaf. The rice is then divided into portions and eaten with each of the dishes. Usually, a well is made in the rice and the curry poured in to be mixed with the rice. There is an etiquette as to which dish follows which, but this can vary from region to region.
In South India, it usually follows this order:
First, the vegetable curries are eaten. These are usually a wet and a dry 'thoran' of some variety.

Next, the sambar (a watery lentil and vegetable soup) is mixed with the rice and eaten.

Next, the vithal kozhambu is served. However, as this is the spiciest dish, it's not always served.

Next, comes the rasam, which is a peppery tomato soup.

The meal is usually finished by mixing the curd and rice together as this has a cooling effect on the body and helps with digestion.

Payasam is normally eaten separately as it's a South Indian rice pudding. Meals can be finished with this for the final sweet ending.

Source: South Indian Cookery Class at Food at 52
Another very important point to mention is that in India the thali would always be eaten by hand. Indians believe that eating is a sensual activity and that using hands elevates the sensation and flavours of the food. In a practical way, the fingers also help to gauge the temperature of the food. Normally, you would only ever use one hand to eat with, leaving the other clean to pick up drinks.
Once you have finished your meal, it's custom to fold your used leaf. I believe that the correct etiquette is to fold the leaf towards you to signal that you liked the food, but to fold it away from you when you didn't enjoy the food. If you can't remember what to do, then just leave it open and leave with a smile.
Other regional Thalis:
Thali's from other regions of India will serve a variety of different. I don't think that there any right or wrongs when it comes to what to serve in your thali, so long as it's an array of different styles of dishes that will look appealing and colourful.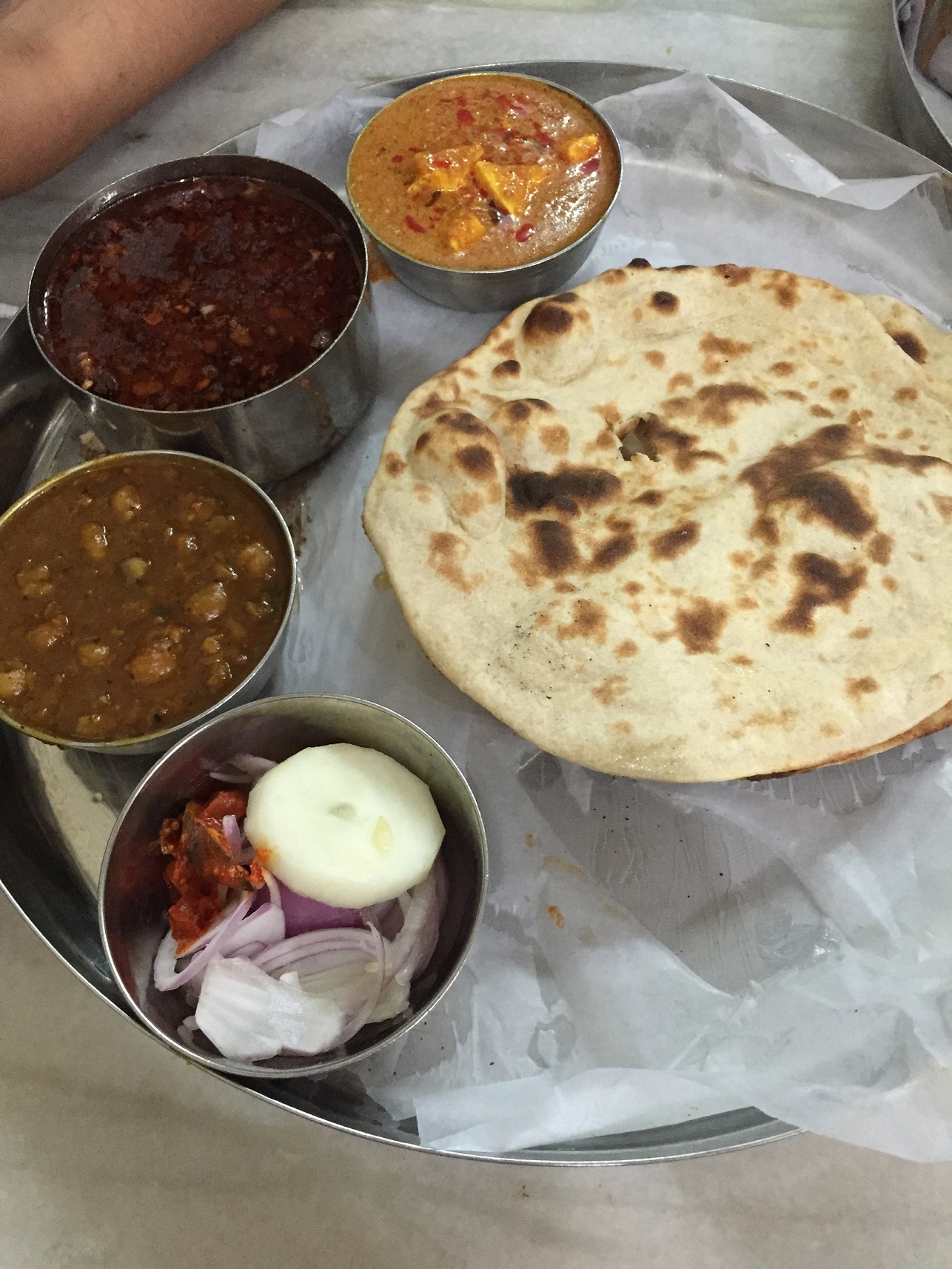 The Punjabi Thali would include some form of bread (roti, naan or paratha) and a mixture of meat and vegetable dishes. Both dhal and paneer dishes are likely to feature, as well as a salad of red onions and green chillies. A Bengali Thali would most definitely include some form of fish curry.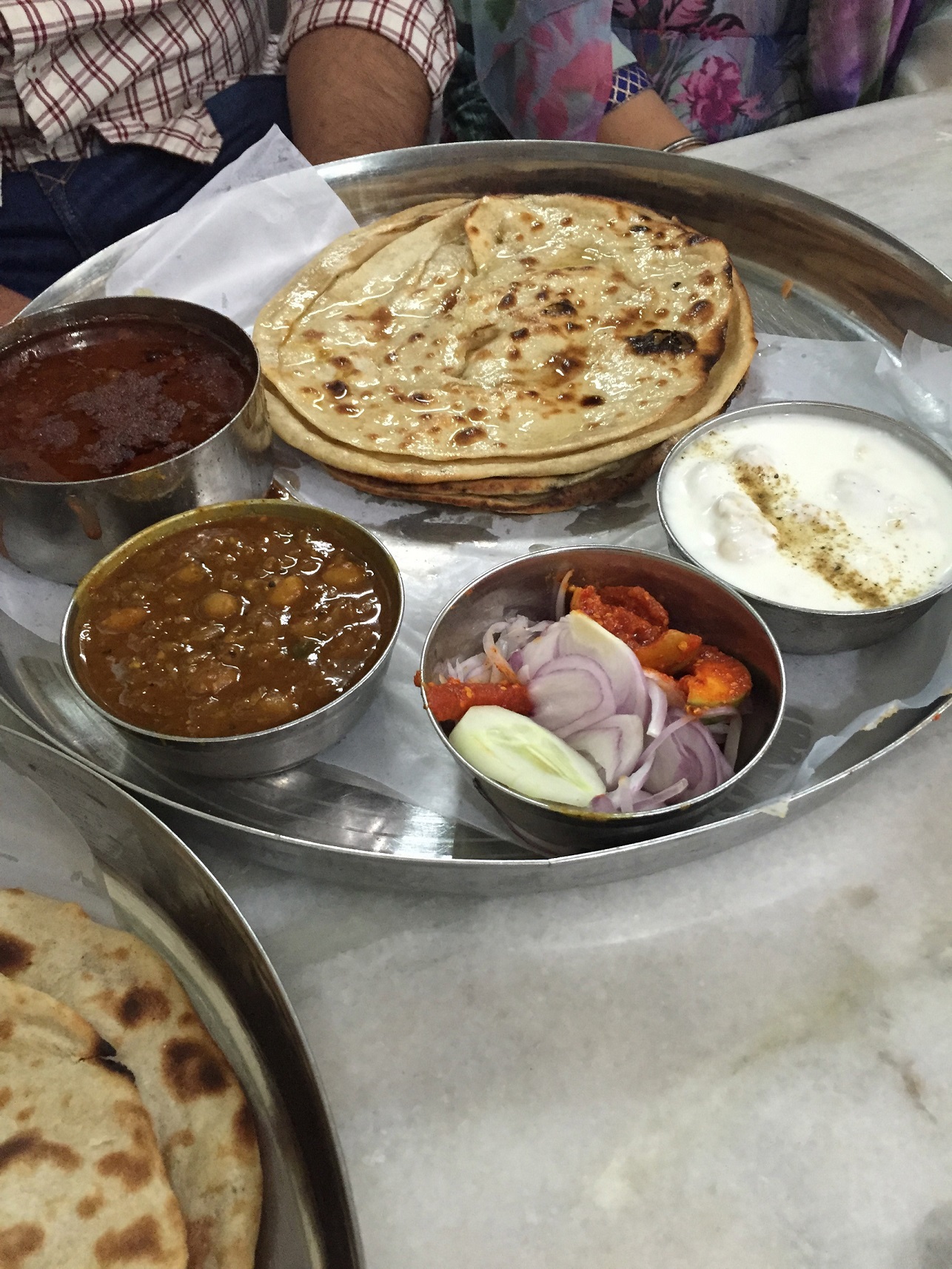 My Ultimate Indian Thali:
Those of you who know me know that I have no problem packing away a meal big enough for two weightlifters, so coming up with my ultimate thali has been a bit of a challenge. I mean, it's hard enough going to a restaurant and choosing from a menu – such an impossible task! But, after much deliberation, this is my Ultimate Indian Thali.
I warn you now, some dishes are a bit out-of-the-ordinary and very Punjabi in style.
Back to Blog