In India, vegetarianism is a way of life. Over there, it's not about cutting out meat from your diet, it's about not even considering it as a food source. India is a nation of 1.25 billion people and between 20%-42% of those don't eat meat – that's over 500 million vegetarians! In fact, food is categorised as 'Non-Vegetarian' if it contains meat, which just signifies how important this way of eating is. But their diet will include milk, ghee, cream, cheese and honey, but excludes eggs and any animal fat products. Essentially, it excludes the consumption of anything that would cause harm to the life of another animal.
There are a number of reasons for this way of life. Primarily it's a religious and/or cultural thing, but economics also plays a part as vegetables and lentils are simply cheaper.
The teachings from Buddhists, Sikhs, Hindus and Muslims all state in one way or another that consuming meat is not needed for a healthy life. Some of these religions are more vocal about this than others. So the Brahmin or Jain communities practice a path of non-violence towards all living things, Hindus believe that the cow is sacred so as a rule do not eat beef, for Muslims pork is forbidden and for devout Sikhs, meat and meat products are excluded from the diet. In the west, our reasons for going veggie are usually pretty different.
Health reasons
From a dietary and biological perspective some believe that we don't need to eat meat. That said, vegetarians must ensure they get the right amount of iron and nutrients from their diets (which we get from meat) to ensure they're getting everything their bodies need. There is now a fair amount of research into the benefits of a vegetarian diet and some studies show that vegetarians are healthier overall and generally live longer.
A vegetarian diet can help:
1. Lower blood pressure
2. Enhance moods
3. Reduce the chance of heart disease
4. Lower risk of cancer
5. Lower risk of diabetes
6. Reduce the chance of being overweight
7. Lower cholesterol
Indian vegetarian food
I think that Indian vegetarian food is just wonderful. With the varying climate across the country, the land offers up an abundance of vegetables that go to make some really fresh, healthy, seasonal dishes.
The cooking styles and spices used across India are so diverse and a million miles away from the boring, plain boiled vegetables I had growing up (I mean boiled cauliflower? Really?!?). From the amazing bitter gourd to different types of delicious beans, pulses, lentils, green leafy stuff, squashes, mushrooms, root veg, rice, flours... the list goes on and on and on.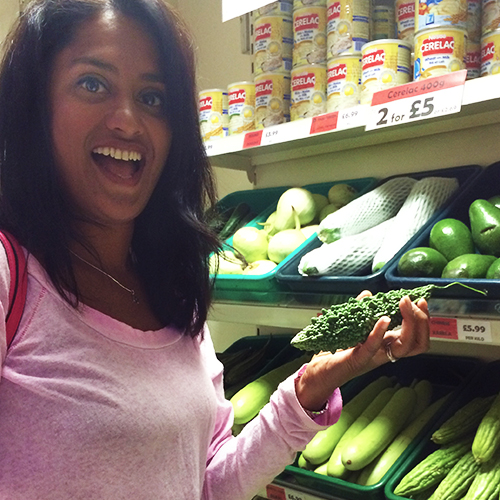 When visiting my aunt in India (admittedly she does live on a farm which is green and lush) I can remember her cooking me an amazing stuffed aubergine dish. She just popped out to the front of the house, picked a few aubergines dangling from the vine, stuffed them with chillies, cumin, garam masala, turmeric and salt and cooked the things on a griddle over an open fire in the courtyard. The whole process took about 10 minutes and as I tucked in I was in my happy place, and all my very lovely aunt could do was apologise for cooking up something so simple and boring that it wasn't fit for the cattle never mind her beloved niece from England.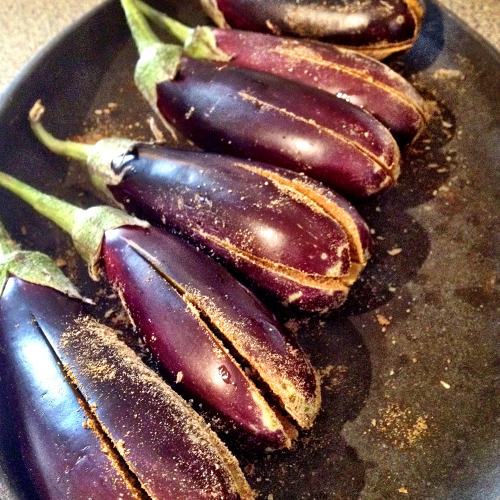 Anyway, after a good hour of reassuring her that it was more than amazing she took me to the hottest restaurant in town for dinner as an apology. Win win!
Anyway, when cooking vegetarian remember to always:
• Buy fresh ingredients
• Use seasonal stuff
• Don't be afraid of lentils (just ensure you cook them properly)!
And I can promise you that when you have a purely vegetarian Indian meal the meat will not be missed at all.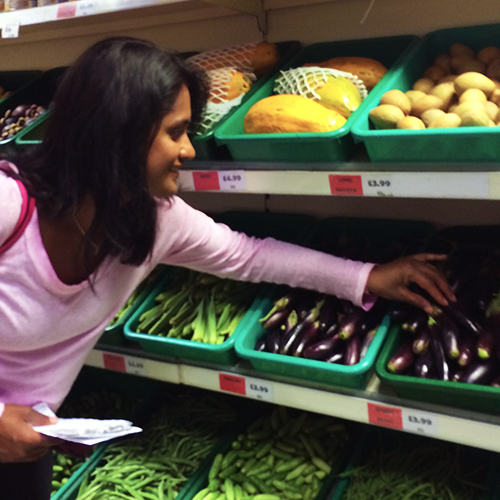 Alternatives
It recently occurred to me (after a conversation about my favourite Indian sauces) that there are so many recipes out there which veggies naturally avoid because they contain meat. Totally understandable, of course, but what if we made a meat-free alternative? Apologies if I'm teaching you guys how to suck eggs but I thought you might find this helpful!
Veggie alternatives on some restaurant classics
Lamb madras has a deep rich sauce dish that's fairly fiery with a tamarind tang. I love to use chickpeas instead of the lamb, but you can even add some potatoes (bear in mind these take longer to cook) and depending on the time of year courgettes, too.
Chicken Korma has a rich, smooth, creamy sauce made with coconut milk and almonds for a slight sweetness, complimented with cassia bark which adds a real earthiness to the gravy. I like my korma with a kick, so I add dried chillies to the onions and then the heat gently flows through the dish. For my vegetarian friends I cook this with thick chunky pieces of paneer. I add chilli flakes to the curd when I make the paneer (tastes good and look really funky). For a little colour you can stir in a sliced red pepper.
Lamb Dhansak could actually be described as a vegetable dish with meat added to it. This is a real winter warmer and it's packed with protein and goodness. 'Dhan' means grain and 'sak' to stew and I like to make this with three types of lentils, aubergine and a squash. Depending on the time of year, you can also use pumpkin, butternut squash, marrow or sweet potato.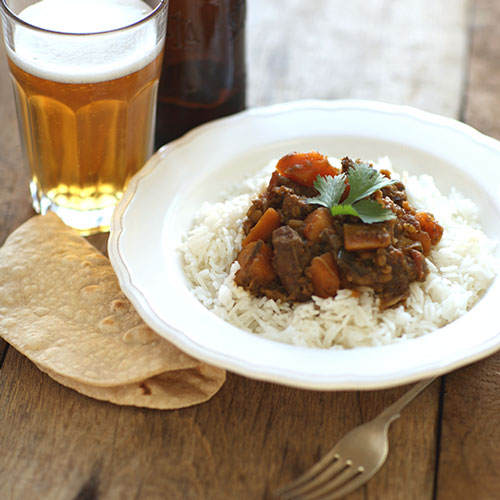 Chicken Tikka masala is the nation's favourite. It's a two-part dish where you marinate and roast the main ingredient and then add the creamy cashew nut sauce packed with warming flavours of fenugreek. I love cooking this dish in exactly the same way with chunky cut red onions, mushrooms, green, and red and orange peppers (which I marinate in spiced yoghurt and then roast before adding to the sauce). Fabulous.
Lamb Rogan josh is a vibrant red fiery dish from the Kashmir region. Usually the meat is fried in whole spices with Kashmiri chilli powder, but a great vegetarian option would feature a robust vegetable like cauliflower florets, potatoes or pumpkin as a replacement. You can add some peas for colour, too.
The veggie option doesn't have to mean throwing in a bag of frozen veg from the bottom of the freezer. Use seasonal vegetables, paneer, lentils and soya chunks (just be sure to rehydrate them in hot water before adding to your sauce).
So there you have it – next time you see a meat dish think about what will work with the sauce and go for the veggie options instead. You will be amazed how little you miss the meat and how good it tastes.
Back to Blog