In the UK, we are fairly limited in the choices of meat we use on a regular basis. Chicken is the firm favourite for everyday use but there is so much more we can do to jazz up our weekly meals.
I have been working with the Agriculture and Horticulture Development Board (AHDB) on a number of projects and research shows that in this country, we are often fearful to step out of the norm when it comes to our weekday meals. Most families have 4-5 meals that they cook routinely and will very rarely deviate from these - especially when it comes to weekday meals.
Eating more pork is one way of varying your home cooked dinners. Unfortunately, pork has a few stigmas which has stopped people using it in their weekly meals. It's often thought of as unhealthy and difficult to cook with. People are just unsure what to do with it but I think pork is actually a really good meat to cook with.
Why choose pork?
Pork has many health benefits - it's a rich protein source which is great for muscle growth and contains some really important vitamins and minerals including Vitamin B6, B12, zinc and selenium which are vital for a healthy immune system.
Depending on the cuts of pork you cook with and how you prep the pork, it can actually be very low in fat. For example, pork loin medallions and fillet medallions can easily be trimmed of all fat leaving these cuts of pork just as healthy as a skinless chicken breast* - yes, it's true! To find out more, read my guide to different cuts of pork.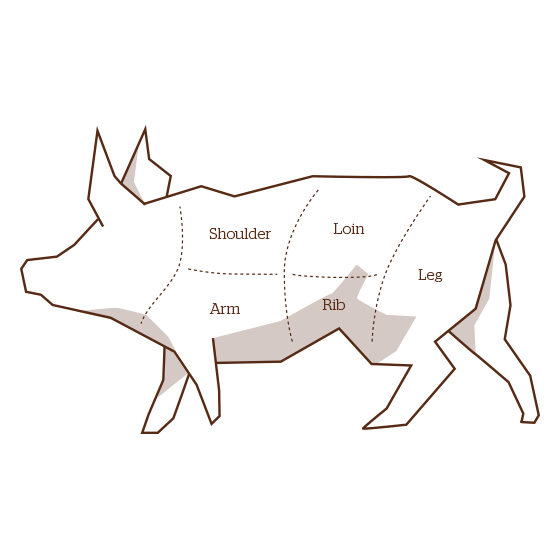 Other cuts are perfect for weekend family meals, especially a roasting loin joint for a Sunday lunch. I also love to use pork mince for meatball dishes like Kofta curry and kebabs too. The shoulder is better for a low slowed stew dish.
I believe pork is hugely versatile and a great carrier of flavour and especially spices, so it can be used in a vast range of dishes. It's very easy to cook and depending on the cut, it's quick and easy to use making it the perfect choice for weeknight family meals.
In general, as with any meat, pork is delicious when cooked correctly. Ideally, cook from room temperature and allow it to rest after it has been cooked. Loin and fillet medallions are very lean cuts so they cook quickly - just what you need after a long day! You can cut them into strips or flatten them into escallops so they cook more quickly. They are great cuts to use in a stir-fry or curries - they can be marinated with spices and fried or oven cooked.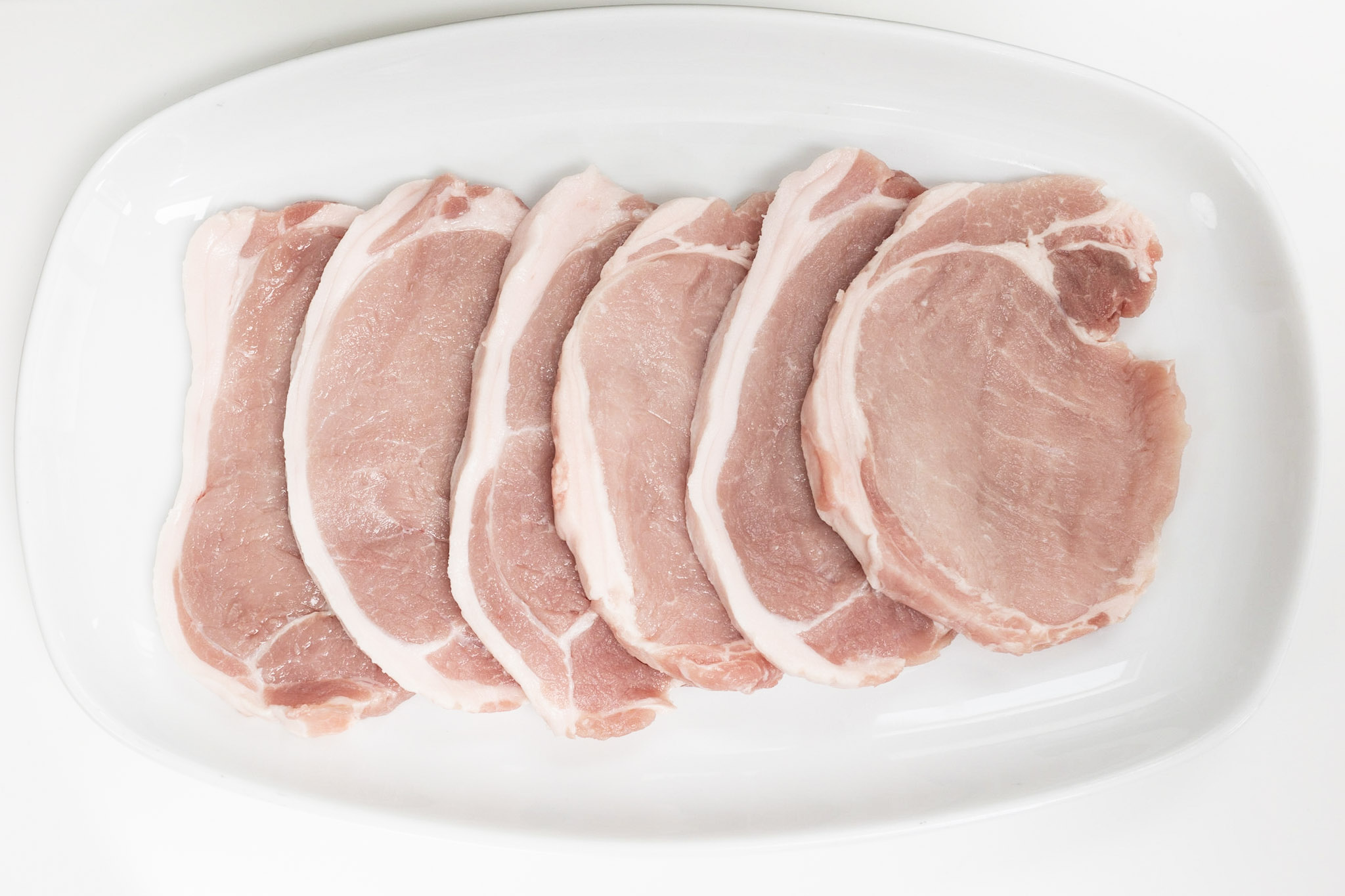 Pork and Indian food
Meat consumption in India is based on culture, traditions, religion and, yes, pork is forbidden for Muslims - just like beef is prohibited to Hindus. But, there are many regions in India where it is consumed and it's even thought of as a delicacy.
Classic dishes like the Vindaloo from Goa is traditionally a pork dish, and, in Karnakata, there are many 'Pandi' or pork dishes. These traditional curries usually use cuts that benefit from a low and slow cook for maximum flavour and include very specific ingredients that work with pork.
Many of these traditional pork recipes will include an ingredient that adds tartness to the dish; this works to balance and cut through the fat - much like we use apple in the west with pork. In Coorg, a specific vinegar called kachampuli vinegar is often used, and other ingredients such as tamarind, coconut milk and black pepper are often used in pork dishes.
One of my favourite spices to use with pork is fennel - the light aniseed is great, as is chilli, cumin and even mustard.
Quick curry
Indian food often gets the label of being a labour of love and something that you can only cook when you have lots of time. I am here to tell you that when you choose the right cut, a pork curry is a great weeknight dish.
I was lucky enough to cook with the lovely Emily Leary from A Mummy Too and show her one of my favourite weeknight pork dishes - a quick Keralan Pandi curry.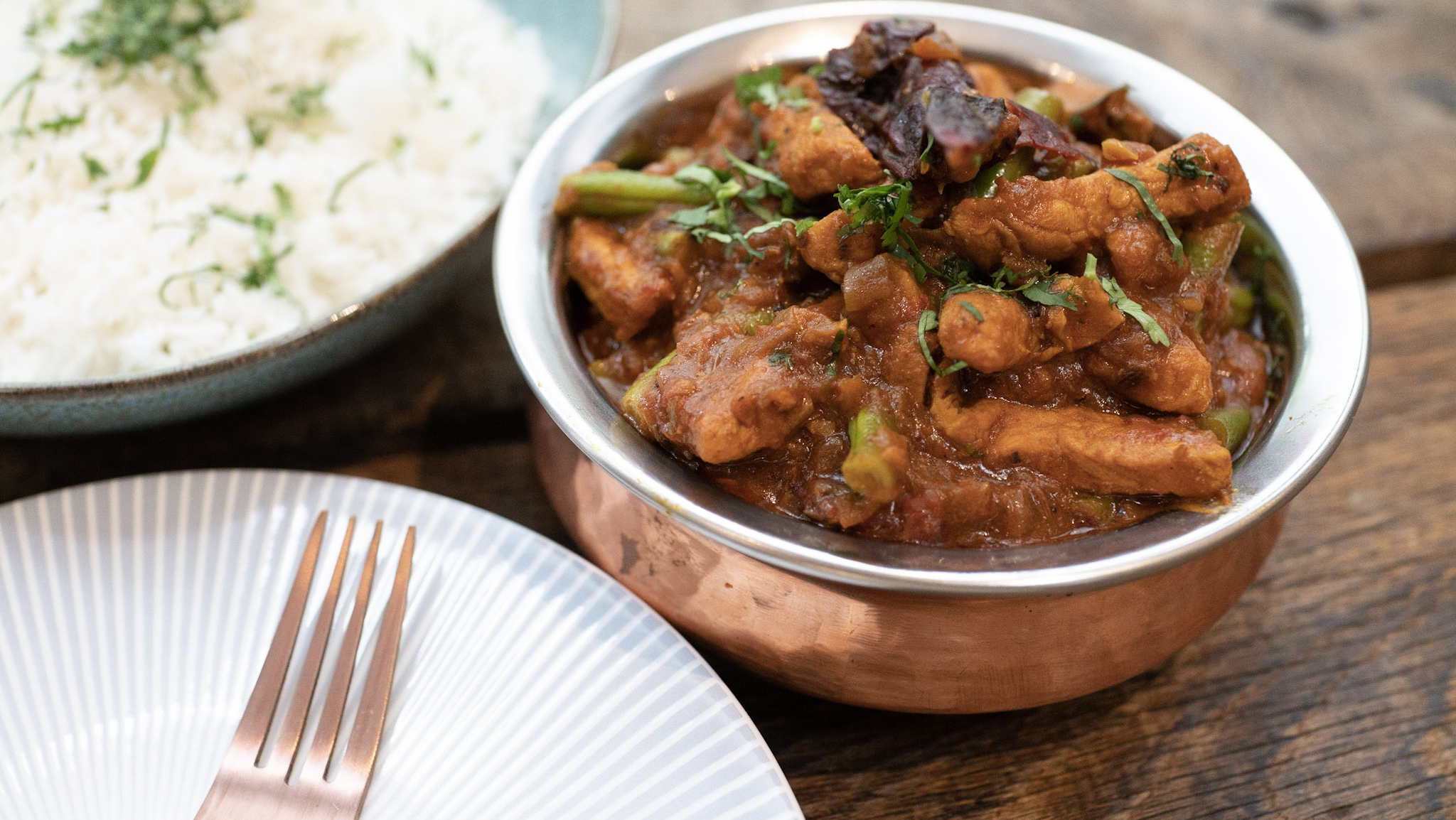 For this dish, I trimmed pork loin steaks, sliced them and cooked them with whole fennel seeds (you can also use star anise too) in a creamy masala made with coconut milk. I also added beans to get some greens into the family on a weeknight and served with plain rice.
You will be surprised to hear that the dish takes less then 30 minutes to cook! It's super simple and tastes fantastic so I urge you to give pork a go and if you need more convincing then take a look. Check out the full recipe is here.
*This relates to pork medallions and fillet medallions trimmed of visible fat and to skinless chicken breast. Advice provided by AHDB in consultation with trading standards.
Note: This blog was written as part of a paid partnership with AHDB
Back to Blog