With 43% of Brits choosing chicken tikka masala as their ultimate comfort food, curry now takes a place in our hearts alongside classic British favourites like fish & chips and shepherd's pie. Could this spell a change for British tastes, which are renowned for being less spice world and more green and pleasant bland?
As an Indian in 'flavour exile' here in England, this couldn't happen soon enough! So as it's British Food Fortnight I thought I'd help British tastes along the way by spicing up some British classics. Why not try serving up these zingy alternatives the next time you have everyone round for an English?
Punjabi fish & chips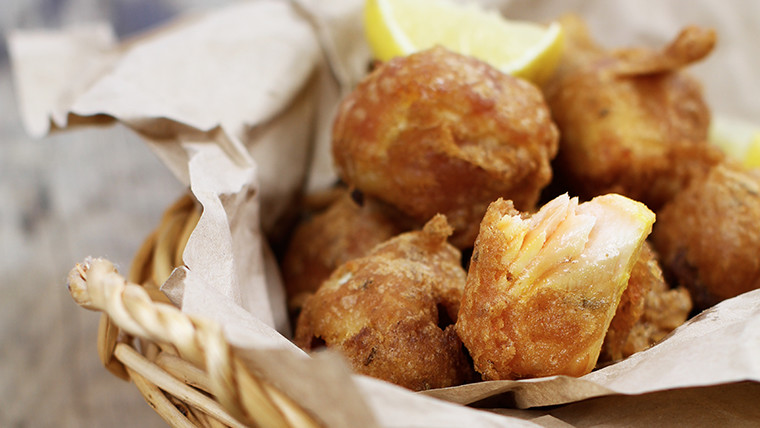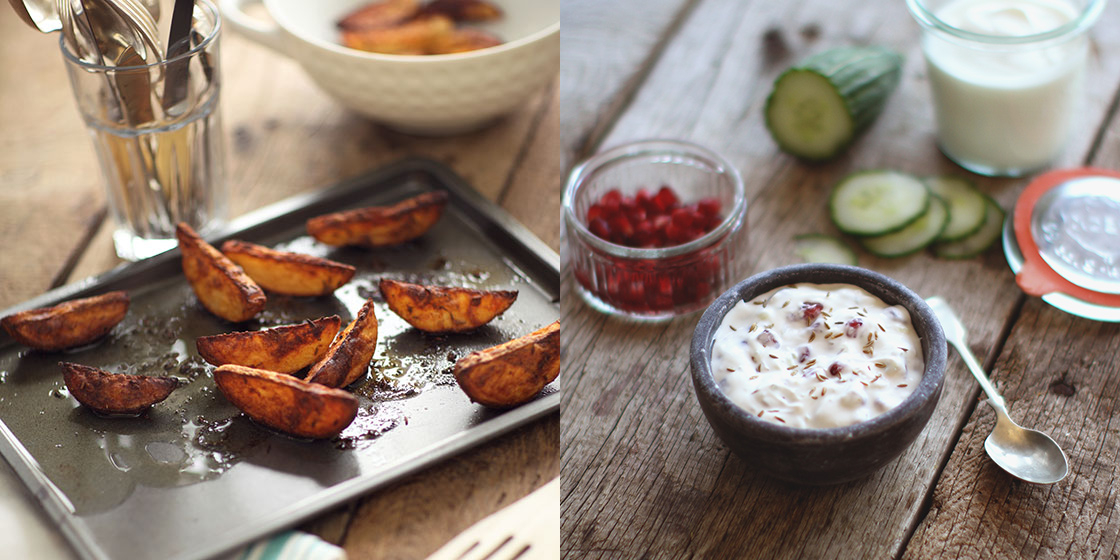 Where else to start but with the nation's official favourite – fish and chips. To those who say you can't mess with a classic, I say get off your perch!
What we love about this dish is the combination of flavours and textures. Melt in the mouth fish combines with crisp batter, fluffy chips and sweet mushy peas. My spiced up version offers all this and more.
Use your choice of white fish to make my beautifully crunchy fish pakoras, which use gram flour instead of wheat, giving a deeper flavour. Try using 7-Up (or Limca, if you can get it) instead of water in the batter for a crisp lemon kick. Spicy wedges stand in for boring old chips and, for that bit of sweetness, serve with my pomegranate raita for dipping. Chaat masala also goes really well with chips – it's a spice powder mix you can get from any Indian shop.
Chicken tikka in the hole
I know you're thinking I must have gone wrong with this one. I'll admit it's a bit odd, but trust me, it really works!
OK, I'll talk you through it. Essentially all you're doing is replacing the sausages with my chicken tikka recipe (forget the peppers and onions) and the gravy with my masala sauce. You can basically follow this method from the BBC, but only cook the chicken for five minutes before adding the batter, otherwise it'll dry out.
Serve with the masala gravy on the side for a wonderfully weird tribute to the beloved classic. If you think about it, it's not much different from having tikka masala with naan!
Keema pie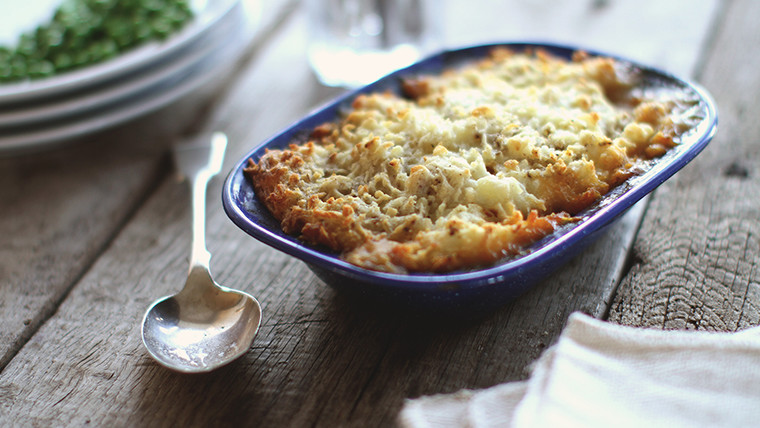 Meat and potatoes are the basic ingredients of meals across the globe, from hamburger and chips on the shores of Cali, to beef massaman in Bangkok.
Somewhere in between, Indians made a spicy lamb mince (keema) served with curried potatoes, and the Brits came up with Shepherd's Pie. And now the two have been brought together in a beautiful fusion of cultures.
My keema pie replaces the standard bland lamb mince with a fragrant lamb and pea curry, topped off with rich masala mash. Trust me, after this you'll never make shepherd's pie the English way again.
Marmite korma
Whether you love it or hate it, I'll admit that in a korma you can't really taste it. But it does add a depth and bite to the sauce, which some can find overly rich.
This recipe comes from one of my curry heroes, Vivek Singh, executive chef at fancy London-based curry capital, The Cinnamon Club.
Vivek is constantly on the lookout for ways to evolve traditional Indian cooking. I think this is an important quality for any modern Indian chef and I try and get creative in the kitchen in the same way. The lesson here is don't be scared to bend the rules a bit!
Bhangra and squeak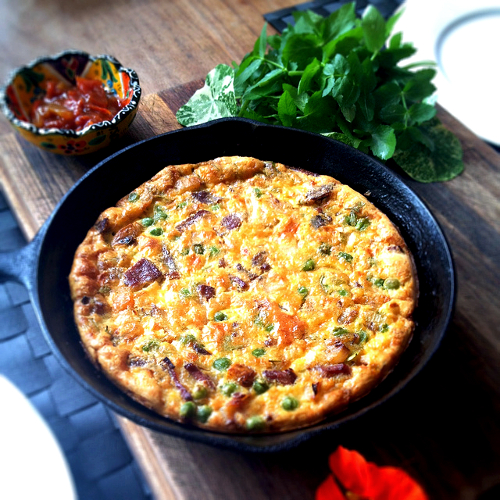 Image via Mr and Mrs Stickyfingers


Curry tends to be cooked in big batches, which means there's often quite a lot leftover. Enter the famous British leftovers solution, bubble and squeak.
This dish was invented way back in the late 1700s as a way to reuse the leftovers from a traditional English Sunday roast. It's essentially just meat, potatoes and greens mashed together and shallow fried.
I've tried it before with leftover tandoori chicken, Bombay potatoes and tangy fried okra. All I did was slice up the chicken and okra, mash the potatoes together, combine and fry with a little extra onion and seasoning. Give it a go next time your fridge is full of curry.
Back to Blog