The rich, fiery zing of a fragrant curry and the cool crisp taste of a good pint; it's a match made in heaven. No wonder India has developed a thriving beer market to compliment its national cuisine.
Beer has been made in India for thousands of years. Vedic scripts from around 1500–500 BC speak of an intoxicating beverage known as sura, made from grains and hops. Some un-modernised Indian tribes, such as the Asur people of Jharkhand, still brew their own beer using rice or millet.
The most famous beer associated with India is IPA — India Pale Ale. In fact, this is about as Indian as Tikka Masala and actually got its name from being popular with Britain's East India Company. IPA is brewed with more hops than most beers, which helped preserve it on the long journey from England to India, giving Brits abroad a taste of home.
Today European lager-style beers are the most popular, and although whisky is still by far India's favoured tipple, a growing middle class means beer sales are on the up, with the average cost of a pint just £1. As a result, Indians now guzzle over 2.2 billion litres a year.
We're all familiar with the classic Indian beers found in curry houses across the country. But which are the real deal? Which, like the IPA, are just fake-Indian? And what's everyone actually drinking in India?
Cobra Beer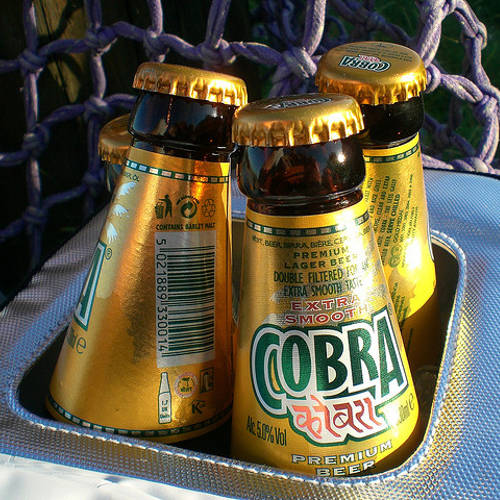 As of November 2014 Cobra was sold in 98% of licensed curry houses in the UK. But how Indian is it exactly?
Cobra was founded in 1989 by a rich Indian expat living in the UK. Karan Bilimoria, now Lord Karan Bilimoria, came to the UK to study at Oxford University. He mainly ate at Indian restaurants and noted that the local lager was too gassy to enjoy with food.
He had the bright idea of designing a smoother, less gassy beer to go perfectly with curry. Working with a brewer in Bangalore and importing the product to the UK, the beer became a huge success, despite launching during the 1990s recession.
Cobra's raison d'etre is to be enjoyed with curry, so of course it's a great choice. But although Lord Bilimoria is Indian, his beer is designed with English tastes in mind, so you'll have to look elsewhere for an authentic experience.
Kingfisher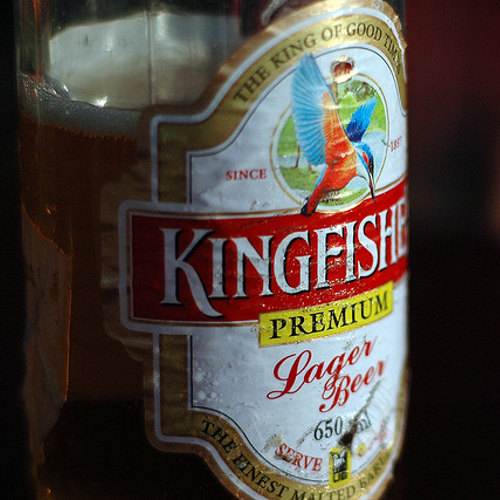 Another staple in the British curry house, the strong version of Kingfisher is India's most popular beer. The brand is completely ingrained in modern Indian culture, much like Coca-Cola in America. The beer sponsors Indian Cricket, music festivals, F1 teams and more.
The beer's manufacturer, United Breweries, was actually founded by a Scotsman way back in 1857 and gained popularity supplying beer to British troops (see a theme here?). United Breweries are now the third biggest alcoholic beverage company in the world — they even have their own city in Bangalore!
Kingfisher has been shipped around the world since the 1970s and is now one of India's most profitable exports.
Tiger Beer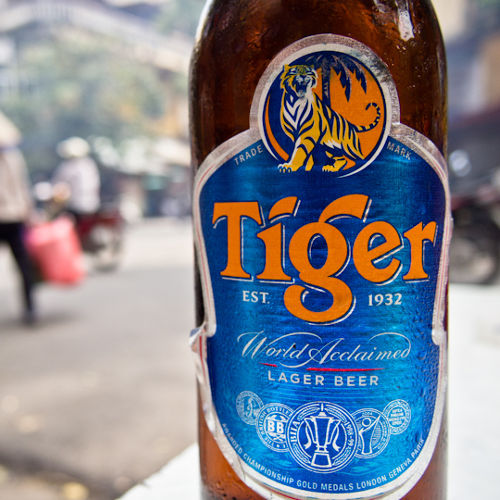 Imposter alert! Tiger, despite its unashamed hijacking of India's national animal, is not even slightly Indian. It's actually brewed in Singapore by Heineken using ingredients from Europe and Australia.
There's nothing wrong with the beer itself, of course. It's just if you want an authentic Asian beer Tiger isn't it.
Singha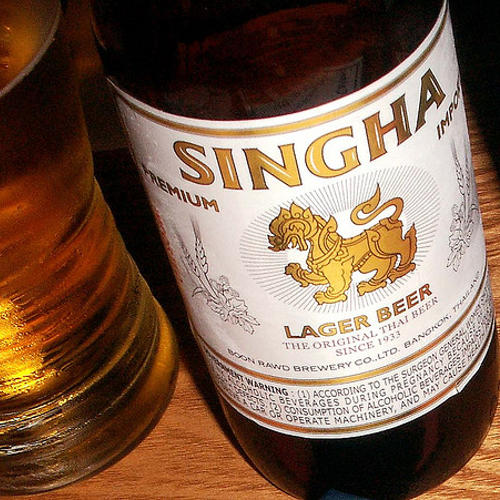 Another confusing one. The name automatically makes you think of India, due to its use by Sikh men, but it's actually Thai. The word "Singh" means Lion, and the Singha in Thai mythology was a magical lion said to reign over an ancient enchanted forest.
The beer is still brewed in Thailand for Asian countries, but as of 2013 the UK gets its Singha from a Carlsberg factory in Russia. Certified not Indian!
In conclusion
There's my exposé of UK curry house beers. Kingfisher is definitely the go-to if you're looking for a real Indian beer, but even that isn't 100% Indian. The thing is, Britain brought its love of beer to India in the same way that India brought curry to Britain. Perhaps that's why the two make such a beautiful match?
I was recently given a very intriguing beer to try called True Maharaja by Modha ales. It's a cardamom beer brewed in the UK by the Modha family. Much like Cobra, it's brewed specifically to go well with curry. The cardamom gives it a tang that compliments more coconutty dishes. It's also designed to be drunk cool, rather than ice cold like most lagers are. This is because ultra cold temperatures actually dull your tastebuds, reducing the flavour sensations.

Try pairing it with my Nariyal Chicken curry.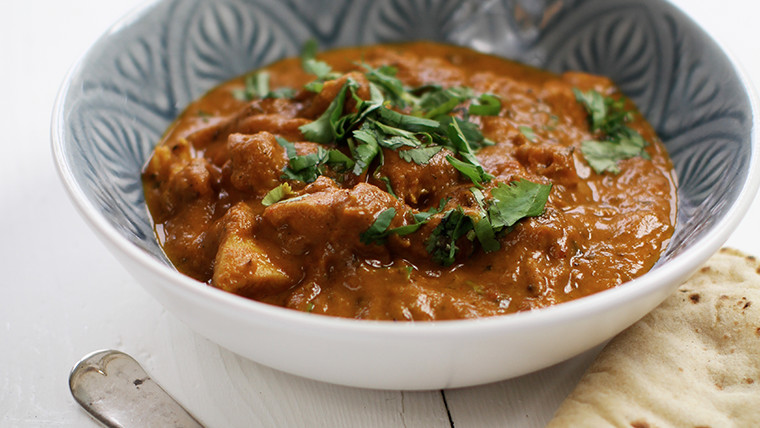 Loads more drinks go perfectly with curry. Check out my drinks recipes, including mulled wine, hot spiced cider, Red Snapper and Indian-style Bloody Mary.
Images via waldopepper, micehlleb, Mark Richardson, Sarah Twitchell and cobalt123.
Back to Blog