It's like fashion – we go from the mini skirt to flairs and back again. It's the same with cooking. We've been through the quick pressure cooking phase to microwaves to raw food to low and slow. But recently there's been a bit of a revival in slow cooking mainly triggered by better technology and new funky cookers coming onto the market.
And you can see why. Slow cooking produces really tasty budget meals with very little fuss. Really, the slow heat does all the work and it's a great way to turn cheaper or tougher cuts of meat into really hearty meals. And if you work long hours, then this is the perfect way to ensure you eat well and have a delicious meal waiting for you when you get home.
Slow cooking is great for Indian food. In fact, it works so well that I've written a book on the subject. It's called "The Easy Indian Slow Cooker Cookbook" and is available to pre-order on Amazon.com.
Order Your Slow Cooking Cookbook Today
Slow Cooking
You don't have to go out and buy an electric slow cooker. There are a number of options you can try:
This is a large stainless steel pot that's usually taller than it is wide (and has two handles). These work the same way as any saucepan but they are bigger so cook larger volumes. The food is just cooked on the hob on a very gentle heat, although I'm never comfortable going out all day leaving something cooking on the stove!
This is usually an ovenproof pot made of ceramic material, glass or cast iron, with a tight-fitting lid. You simply pop all the ingredients in and then place the pot in the oven on a low heat. I like this type of slow cooking because the heat in the oven is indirect so it circulates around the pan and cooks everything more evenly. Some modern cookers even have a slow cook setting.
This is an electrical pan that has a removable internal pot. The heat is usually applied around the sides of the pot (it has lots of settings for different dishes) so just make sure you have enough food in there for it to cook efficiently. It's all a bit 70s this, but it's actually a really convenient way to cook, and you can safely leave everything to cook overnight or all day.
I always thought that slow cooking was about throwing everything into one pot and leaving it to bubble away. And although essentially it is, there is also a little more to it. For example, you have to cook the onions or brown the meat first if you're making a casserole. But cooking this way usually takes little time to prepare and it frees your day up.
In an electric slow cooker you can either leave things to cook on high for four to six hours or on low six to eight hours - Ideally I would cook on low to get the best flavour. If going for the casserole method, cook in the oven at 120C for 6-8 hours. There is nothing more amazing then coming home to something hot and delicious waiting for you. And I don't mean George Clooney. Well, I do. But... oh you know what I mean!
Slow cooking tips
1. Lightly season your dish at the beginning of cooking. The slow cooking will concentrate the sauce so it's best to adjust seasoning later to stop it becoming too salty.
2. Choose your meat carefully as you don't want it all to disintegrate, these cuts work really well but you can also cook whole joints too:
- Beef; go for shin, stewing steak, skirt, brisket or topside
- Chicken; meat on the bone is best either thigh or drumsticks
- Pork; shoulder and neck work really well
- Lamb; shoulder, chump, neck and leg joints are good
3. Lamb cooks faster than other meats when slow cooked
4. It's not only meat that can be slow cooked; there are some fab lentil dishes too.
5. Don't add too much liquid you only need to just cover the ingredients. As the lid is tight fitting the liquid won't evaporate.
6. Trim the excess fat - although you are not adding any extra oil to the dish with slow cooking the fat from with meat will remain in the dish the dish and if this is excessive it will make your dish greasy. I remove all extra fat and even the skin from chicken when slow cooking.
Here are a few other slow cooker tips from myself and other notable chefs.
My top 10 (in no particular order) slow cooker Indian recipes.
Here are some of my favourite recipes that all work beautifully in a slow cooker. The recipes do need to be adapted slightly for slow cooking from what's on my website and I've given you pointers in how to do this. For any of these, you can substitute the meat for beef if you'd prefer.
1.Thari Wala Chicken is a traditionally cooked chicken curry and I'd recommend using chicken on the bone with the skin removed for slow cooking. Follow the recipe to step 3 then pour it into a slow cooker with about 200ml of water and leave to gently cook through.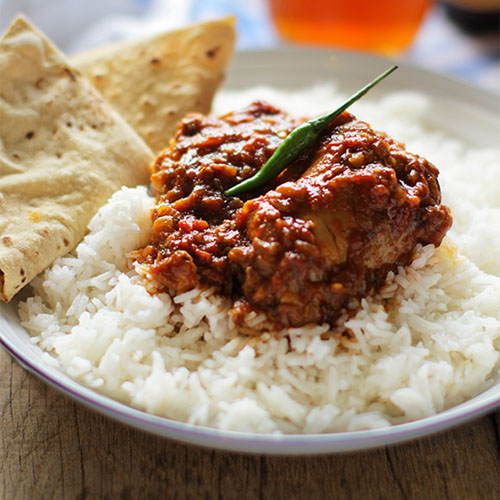 2.Slow Cooked Lamb Shank is a great one because the meat will cook until it is so soft and tender it just melts. Follow the recipe to step 8 and then leave it to slow cook. I wouldn't worry too much about cooking the tomatoes in step 5, just add the yoghurt and water then leave to do its thing.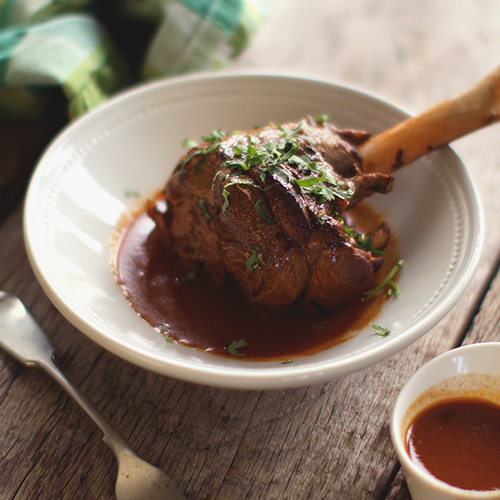 3. My mum tells me that when she was a girl Dhal Makhani would be cooked really slowly overnight on the dying embers of the fire. This method is what gives this lentil dish its soft creamy texture (and not by adding bucket loads of cream!). In a pan, start from step 3 and at step 8, add the uncooked lentils with the water and half a teaspoon of salt. Bring to the boil for 10 minutes (if using kidney beans this is essential) then move everything into the slow cooker. Cook on the low setting in the slow cooker for 8-10 hours. Do check the lentils are soft and cooked though before serving; if not, just heat them through on the stove until they are. To loosen the dhal a little, add a little hot water and heat through. Finish with some lovely butter, garam masala, dried fenugreek and coriander – wowzer!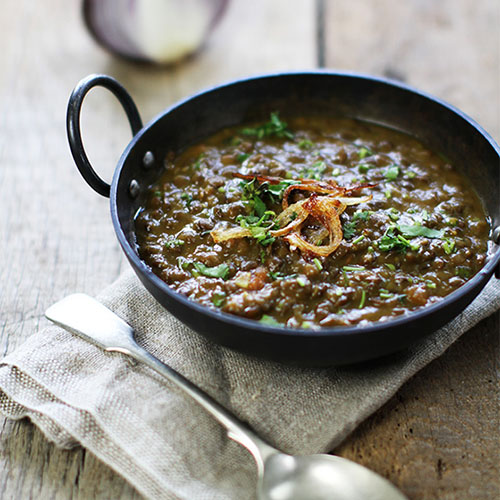 4. For the Pork Vindaloo, just make up the spice paste and coat the meat. There's no need to leave the meat to marinade, as the length of the cooking time will have the same effect. I would go straight into cooking the spices and browning the meat, then getting it into the slow cooker with about 200ml water with the potatoes (go for a waxy potato, something like a Desiree). Leave it to cook and before you serve, if it needs thickening, you can just stir-fry it on a high heat.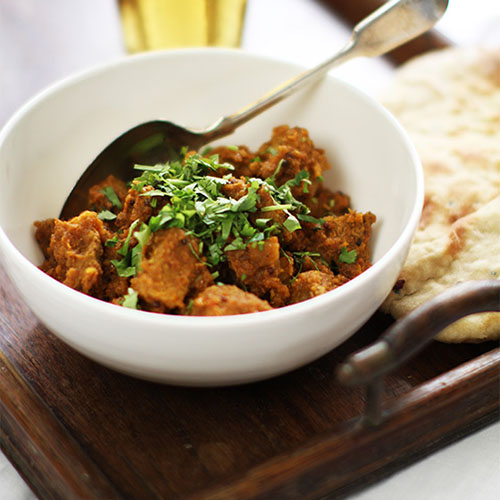 5. A lovely Lamb Madras will come out hot and fragrant and again, it's really simple to adapt to the slow cooker. The process is pretty much the same – make up the Madras powder and brown the onions (maybe reduce the cook time from 20 minutes to 10) in a pan then add the ginger, garlic, chilli, tamarind, tomatoes and about 100ml water. Then pour into the slow cooker and leave to cook.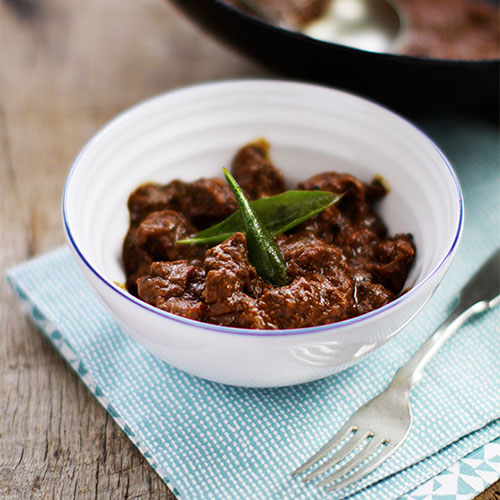 6. A traditional Rogan Josh is cooked without onions or tomatoes and works pretty well in a slow cooker. Just follow my recipe step by step, although the only addition is to add 150ml water when you start to cook it. Perfect with some plain Basmati rice.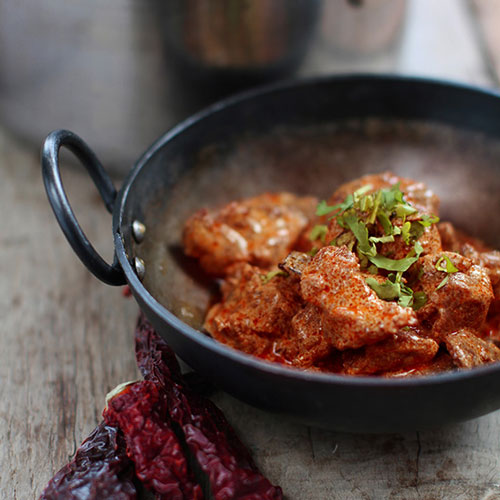 7. A Lamb Bhuna needs to have a thick, rich masala sauce that clings to the meat, so once this dish is cooked you can thicken the sauce by turning the heat up and frying off any excess liquid. Again, this would be perfect to cook with beef in the slow cooker too. Just make sure you add about 200ml of water when you add it to the slow cooker.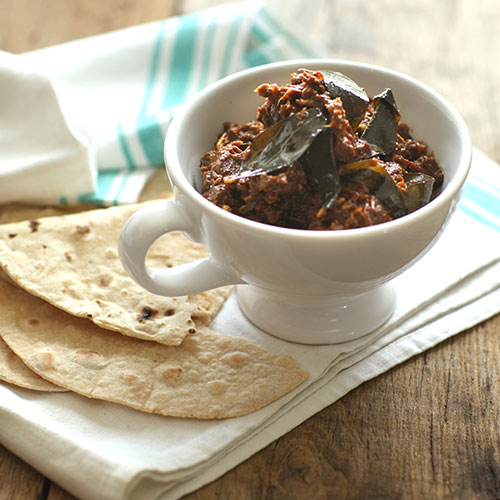 8. For the Methi Murgh dish I would use chicken on the bone and keep a little of the fenugreek leaves to add at the end just to freshen it up. The method is the same, but I would add the yoghurt 1 tbsp at a time at the end and reduce the amount of water to about 100ml. Leave it to cook in the slow cooker for 6 hours on low.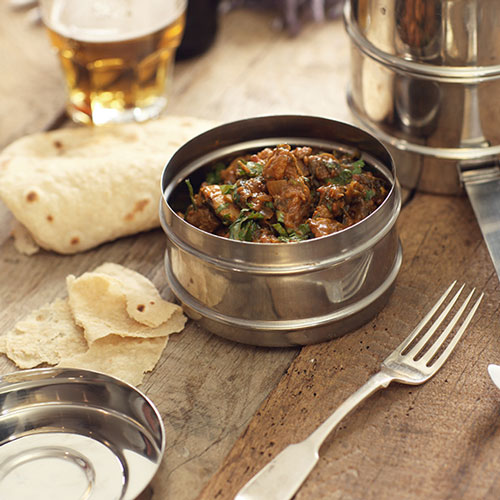 9.The Lamb Dhansak is the perfect one pot slow cook dish. Start at step 2 as you don't need to cook the lentils in a pressure cooker first. After step 3 of the masala, add the lamb and the uncooked lentils with the water (about 750ml), then leave the whole dish to slow cook for 4-6 hours on low. Add the coriander just before serving.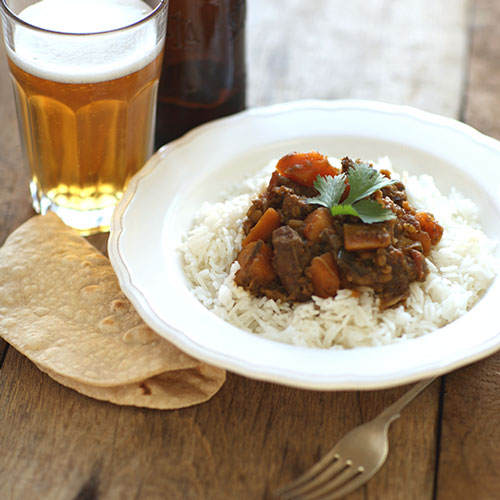 10.Sholay, or Chickpea Curry, is a great vegetarian slow cooker dish. It's best to use dried chickpeas (that have been soaked overnight) here rather then the pre-cooked tinned stuff as these would probably breakdown too much in a slow cooker. You can also add diced potatoes to produce the dish that my mum made for us! And I'm not going to argue with her...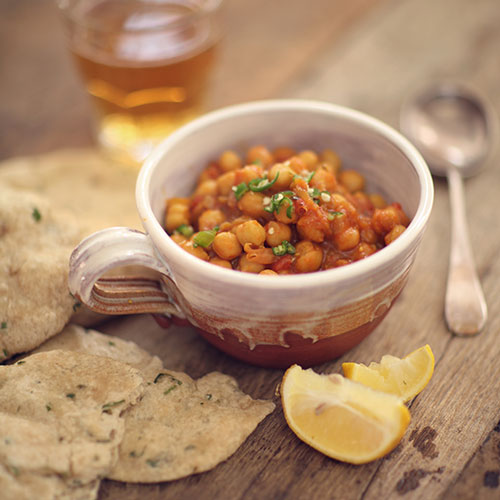 If this has been enough to get you excited about cooking slow then check out this site for more information, product reviews and other recipes too.
Pre-Order My Slow Cooking Cookbook Now
Back to Blog