I have said it before and I will say it again: chutneys, pickles, achaar and all other condiments are an essential part of any Indian meal.
Condiments aren't just there to be scooped up and chomped on with a poppadum. They are part and parcel of you main meal and I love the additional flavours that they bring.
The top shelf in my fridge (much to my husband's annoyance) is filled with recycled glass jars, tubs and bottles, all filled with colourful homemade pickles, chutneys, jams and sauces.
Honestly, I should probably go through them all and do a bit of a cull, but I just can't bear to throw them out.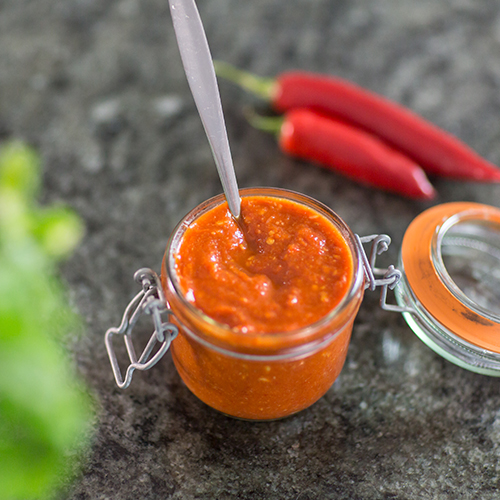 This love of condiments is deep-rooted in us Indian folk. It's all about adding a level of customisation to each and every mouthful of our meals, not to mention how these condiments come into their own when snacking on pakora, samosa and the other mouth-watering nibbles we love to feast on.
These sauces and condiments are about adding distinct and different tastes and textures to each bite. They add excitement and pure satisfaction, whether that be an acidic zing from Lime Achaar, sweetness from Sauth ki chutney or chilli heat from a mango pickle.
They also add additional texture - the crunch of a fresh Carrot Pickle or the cooling soothing sensations from a Pomegranate raita are all hugely important and a vital part of the traditional meal. The main condiment groups are chutneys, achaar, raita and kachumber.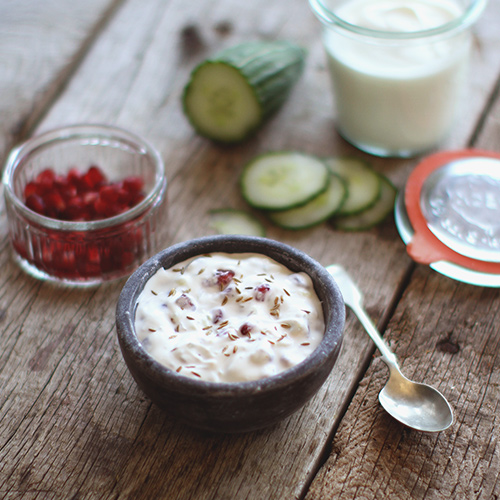 Chutneys
Chutneys are usually made with vegetables, herbs or fruit and are a relish that can be sweet and sour or spicy and sour. They tend to be made fresh and the ingredients are preserved with an acid (either citrus or vinegar). Chutneys tend to be eaten as dips or sauces with Indian snacks.
Also an element of chaat, chutney adds heat and a balance of sour, sweet and zing that gives that famous 'chaat patta' ( the mouth-watering, zingy slap in the face that you're looking for).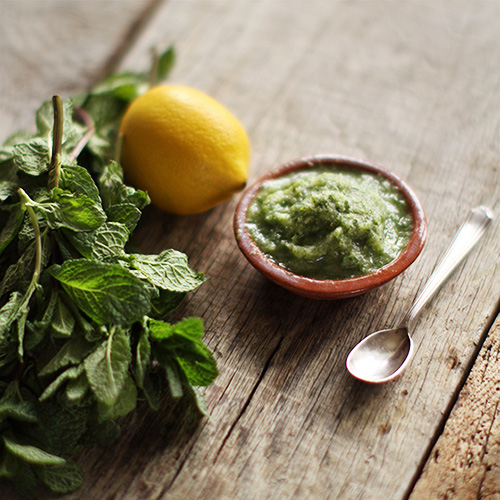 This is the most common of the Indian chutneys and can be made in a number of different ways. This recipe is my home-style version and it's delicious. It's also really easy to make by just blitzing a handful of ingredients together.
Here is a handy guide on how to grow your own mint.
Tamarind is used in many chutneys to add a wonderful fruity zing. This is a simple chutney, best made with a block of tamarind that's rehydrated to get the tangy goodness out. Typically, this chutney is eaten with chaat or as a sauce with snacks.
A lovely way to use beetroot, this chutney is vibrant and colourful. It has warmth from the cumin and ginger and a delicious crunch from the toasted urid lentils.
Coconut chutney
A lovely, mild south Indian chutney, coconut chutney works with practically all south Indian food, from vada to dosa. It's usually finished with a tempering of spices that are poured over the top.
Achaar
Achaar (or Indian pickles) can be made with pretty much any fruit or vegetables. Unlike western pickles that use salt and sugar, Indian pickles are defined by the oil and spices used to preserve the vegetable or fruit.
The spices are usually simmered in oil, but sometimes they can be simmered in an acidic agent such as lemon juice or vinegar and added to the prepared pickling ingredient. The oils used are particular to each region - in north India, mustard oil is used while the south tends to use sesame. The spices tend to be fenugreek, mustard and fennel, although kalonji is also occasionally used. Pickles tend to be made in the summer so that the jars can be left out in the hot sun to preserve and soak up the flavours.
Achaar is mainly about adding a spicy kick to your meal, but achaar can also be mild, and sometimes even sweet. Usually eaten with dhal, paratha and vegetable dishes, achaar can be made with anything, from apples to cauliflower to garlic. However, the two most common Indian pickles are:
Amb ka achaar (green mango pickle):
This is made with unripe, small green mangoes that are preserved in oil and spices. Other vegetables such as carrots and chillies can also be used too.
A tangy and spicy pickle that can be made by preserving the limes in oil or in their own juices. The rind softens and absorbs the spices making it full of flavour and a textural treat.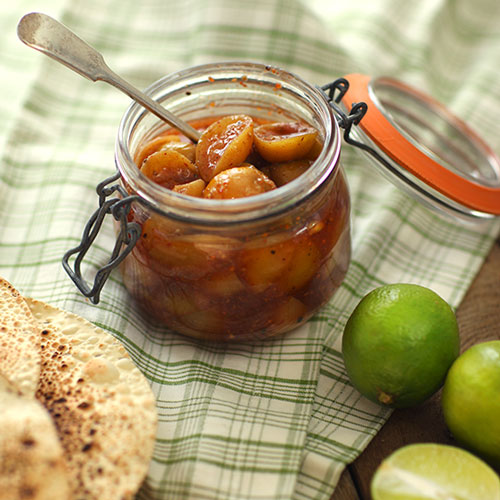 This is more of a fresh pickle and adds a wonderful crunch to your curry. It's fresh and zingy but needs to be eaten in a couple of days rather than longer like the oil-based pickles above.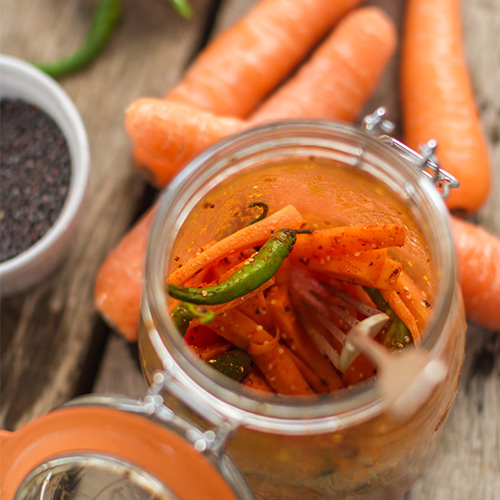 Raita
Raitas are yoghurt-based sides or dips that are used for cooling the palette as well as aiding digestion. It is normal to have some form of raita with every meal in South India. After all, no biryani is complete without a side of raita! Raita can be served with a whole range of other ingredients to produce new and exciting variations. Some of the most common are:
India's answer to Tzatziki, the cucumber gives the yoghurt extra cooling properties. This is a lovely side, especially if you aren't into hot curries. Mint is also sometimes added while the cucumber can be either finely diced or grated.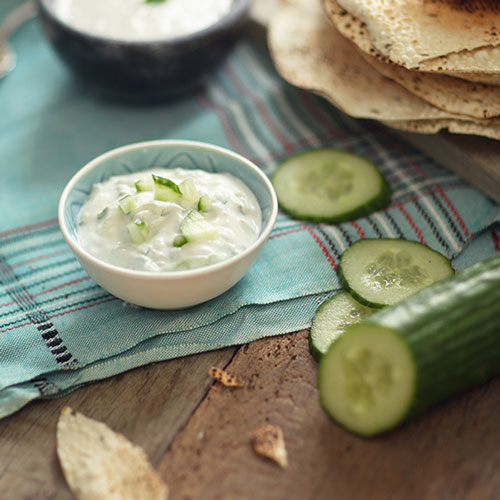 This is very popular and is more about the texture than anything. Boondi are small balls of fried gram flour that are soaked in milk then added to the yoghurt. The boondi balls can be bought at most Indian grocery stores. Usually, a little cumin and chilli powder is also added, which gives a great flavour.
Not necessarily an Indian dish, but I love it. It's cooling, it's fresh and it's so vibrant that it makes you feel healthy just by looking at it. Avocado, spinach, chilli and coriander are all minced together to give a wonderfully flavoured raita.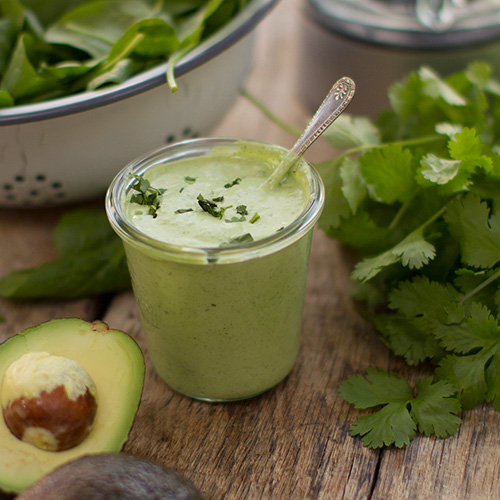 Kachumber
These are finely sliced or chopped salads (similar to an Israeli salad) and although they are about cooling the meal, they do tend to include a little heat too. Kachumber salads add a crisp texture and citrus bite to dishes.
This one is the most common kachumber salads. It's made with cucumber, tomatoes, onions and coriander that are finely diced to produce a colourful collage. I also like to add kalonji seeds for a gentle peppery bite.
This is a wonderfully summery kachumber and one of my favourites. The mango sweetness balanced with the chilli is a sensory delight that is perfect for those summer barbeques.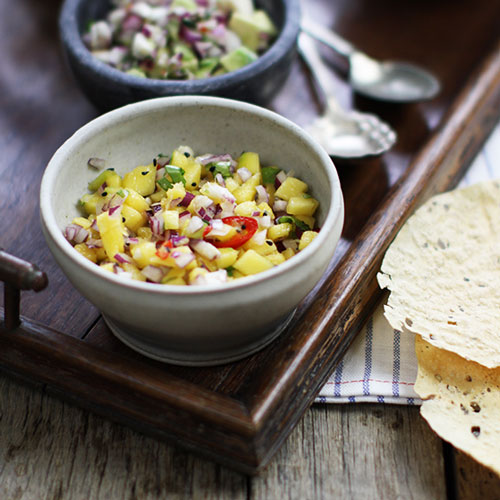 Not technically a real kachumber, but I wanted to include it as it's a really popular onion salad from the Punjab. It's crisp, it's tangy and it's perfect with tandoori chicken and lamb kebabs.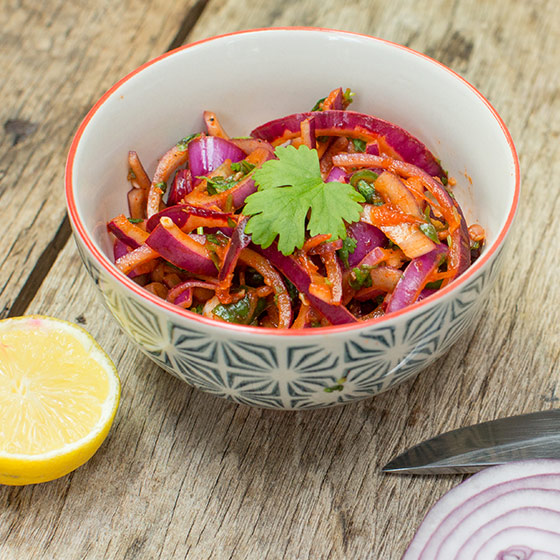 Back to Blog